Pink carpets, pink ice cream, pink outfits—Barbie has unrivalled style, from her dream home to her dream closet. We are undoubtedly living in Greta Gerwig's Barbie world. There's no denying the world's favourite doll's stardom, and Margot Robbie is painting the town pink with her press tour looks. Barbie is not just an iconic brand or a toy that has ruled the charts for six decades; she is also one of the biggest influencers in marketing. The original doll itself has various merchandise coming out every year, be it books, stationery, or clothing.
So, when the pink-wave started with a selfie generator, it was very much expected that Warner Bros. would leave no stone untouched while promoting this movie, but low-key, no one expected this pink tornado (as this specific shade itself the brand's biggest identity) everywhere. This doll in general occupies a special place in the parent company, Mattel's heart and the shelves of consumers, with an astounding 76 million dolls sold annually worldwide; that's like 100 dolls every minute. (Pink Power)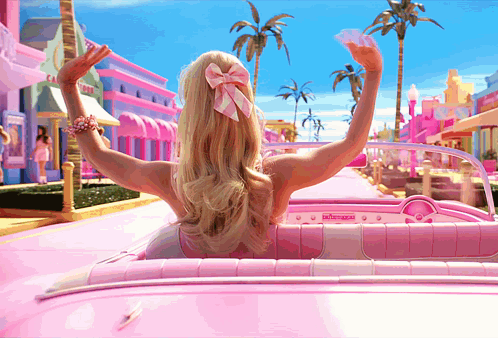 One might wonder, what's the hype with this blonde doll everywhere? The movie trailer answered with the tagline of, "If you love Barbie, this movie is for you. If you hate Barbie, this movie is for you." Which can be said for their marketing as well.
So, if you want to know the deal with this multi-starrer movie marketing, scroll down to see some of our favourite brand collaborations so far:
1. Xbox
With interchangeable SCUF Instinct Custom Controller faceplates modelled after Barbie and Ken's distinctive on-screen attire, you can now bring her fashion-forward personality to your gaming setup.
2. Airbnb
While everyone's favourite doll makes her live-action cinematic debut in the movie, Ken (played by Ryan Gosling) has collaborated with Airbnb. Guests get the keys and an overnight stay in the recently refurbished and recognisable Malibu Dream House.
3. Aldo
You can embody your inner Barbie and have all the wardrobe essentials you've always wanted with the human-sized with the Barbie x ALDO Collection, which includes a 19-piece capsule collection of shoes, purses, and accessories right out of a Barbie closet.
4. GAP
This is not the first time these two brands have come up with something together. Back in 1995, GAP and Barbie produced a red logo outfit for the doll. And now they are ready to showcase the iconic shades of pink with a perfect combination of both the brand emblems: GAP and Mattel are coming up with a capsule collection consisting of skirts, tees, denim, button downs, logo hoodies and accessories for kids and women. The collection will hit stores and ajio.com online on July 21.
5. Pinkberry
Life is sweeter in the Dream House with some Berry Pink Swirl! Pinkberry is a tart frozen yoghurt brand from Los Angeles that has recently painted itself pink with Barbie flavours.
6. NYX
An exclusive makeup partnership with the movie, NYX Professional Makeup, is here to fulfil all of everyone's pink fantasies. This collection includes makeup essentials like lipstick, eye shadow, colour palettes, and more.
7. OPI
Taking the term 'paint the town pink' quite literally, OPI has come up with an exclusive line of nine limited-edition colours with names like "Every Night Is Girls Night" and "Welcome to Barbie Land!"
8. Impala
This might be one of the dreamiest collection on the list: the roller skater brand has collaborated with Mattel for a limited edition replica of the O.G Barbie roller skates.
9. Hot Wheels
Now we can finally own the Barbie car. Two of Mattel's hottest properties have collabed for an incredibly cool and totally in-style Hot Wheels Barbie Corvette.
10. Crocs
Ridding the trend wagon, American clog maker Crocs has teamed up with Mattel's film franchise to offer a special run of clogs. The collection features key pink tones with some Barbie-themed jibbitz.
Also, Margot Robbie's All Pink Outfits For Barbie's Promotions Have Cemented Her Status As A Style Icon