We all know her as the ruthless Miranda Priestley in The Devil Wears Prada or the endearing Julia Child in Julie & Julia. Meryl Streep is the undisputed Hollywood queen with her versatile onscreen performances and an impeccable command over her craft–she can portray any role with absolute ease. And as much as she makes her presence felt on-screen, she has the same impact even off-screen, whether it's through words of wisdom in her interviews or red carpet style. As she celebrates her 73rd birthday today, we look at five reasons we will always love Meryl Streep.
1. Her Acting, Of Course
Did you know that Meryl Streep wanted to get into Opera before she found her love for acting? No wonder she also sang so well in many films. Case in point–Mamma Mia! She sang most of the iconic ABBA songs with so much soul all the while also making us fall in love with her character Donna Sheridan. From romance to drama to comedy, we've seen Meryl Streep essaying many characters across genres. She's a gifted actress and it's really hard to point out any flaws in her on-screen performances. She played grey roles as Miranda, or in the Witch in Into the Woods, or Mary Louise Wright in Big Little Lies Season 2.  But it's also her understated characters like Britain's first female Prime Minister, Margaret Thatcher in Iron Lady that deserve that much applause.
2. She's Not Afraid To Speak Up
Besides her flawless on-screen roles, Meryl Streep will always be remembered for her groundbreaking speech at the Golden Globe Awards in 2017. In her acceptance speech, the actor took a deadly aim at the then US President, Donald Trump, and without a mere mention of his name. She called him out because he had mocked a disabled New York reporter in 2015. "It kind of broke my heart when I saw it, and I still can't get it out of my head, because it wasn't in a movie. It was real life. And this instinct to humiliate, when it's modeled by someone in the public platform, by someone powerful, it filters down into everybody's life, because it kinda gives permission for other people to do the same thing. Disrespect invites disrespect, violence incites violence. And when the powerful use their position to bully others we all lose," she had said.
3. An Active Supporter Of Women-Led Initiatives
While Streep essays roles that centre around women's issues or empower women in her reel life, she also plays the part in real life. When she was playing Margaret Thatcher, the actor made sure to secure the future of other iconic women from the past by donating her salary to The National Women's History Museum in the US. She has also supported other women's initiatives in the past through various organisations such as The Writer's Lab for female screenwriters and Girl Up for women's empowerment.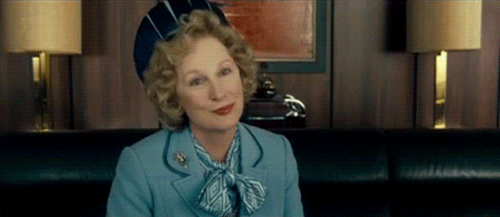 4. Her Elegant Red Carpet Style
You'll never see the star take the OTT route with exaggerated sleeves or loud prints. Instead, she likes to keep her style simple, classy and timeless. After all, keeping it minimal makes maximum impact. And her elegant red carpet style is proof. Not that she has never taken a risk. Meryl has pulled off plunging necklines, shimmery dresses and off-shoulders like a pro!
5. The Fact That She Doesn't Even Know She's The G.O.A.T.
While promoting the film Don't Look Up, Jonah Hill kept calling Meryl Streep the G.O.A.T (short form of Greatest of All Time), and rightly so. After all, she has been nominated for the Oscars as many as 21 times and has won the Academy Award three times. But Streep is yet to catch up on these internet lingos and thought he was referring to her as an actual goat. "I thought, well that's cute. I am kind of an old goat," Streep said. But later, Jennifer Lawrence explained what the abbreviation meant. It was a pretty hilarious moment but it just shows how adorable Meryl is. She's so oblivious to the fact she truly is the greatest but that humility makes us love her more.
Lead Image Courtesy: Getty Images