#ELLERoundUp: Top Celebrity Moments From 2020 That Put A Smile On Our Faces
From Brad Pitt and Jennifer Aniston's viral photo at the SAG Awards to celebrity pregnancy announcements
Even though we didn't spot our favourite celebrities out and about on the city streets this year, there's a lot that they shared on their social media platforms even during the lockdown and kept us entertained. From big moments that shook us pre-COVID to stars finding ways to occupy themselves, here's a roundup of all the celebrity moments from Bollywood and Hollywood that brought a smile to our faces.
1. Jennifer Lopez And Shakira's Super Bowl Performance
We can never forget JLo and Shakira's power-packed performance at the Super Bowl halftime. While Lopez performed on some of her major hit tracks like Waiting For Tonight, Jenny From The Block and On The Floor, the turning point was when she brought her daughter, Emme Maribel Muñiz on stage, who gave the song Born In The USA her own spin. Shakira too performed on her major hits like Waka Waka and Hips Don't Lie.
View this post on Instagram
2. Celebrities And Their Pregnancy Announcements
Pregnancy amidst the pandemic has been a trending phrase this year and celebrities gave enough proof of it with their pregnancy announcements this year.
Kareena Kapoor Khan's son Taimur Ali Khan will soon have a younger sibling.
View this post on Instagram
Anushka Sharma and Virat Kohli also announced that they're expecting a child.
View this post on Instagram
In Hollywood, Karlie Kloss, Emily Ratajkowski, Gigi Hadid and Emma Roberts also shared the baby news.
3. Baby Announcement Photos
Bollywood and Hollywood couples also turned parents with new additions to their families.
Zayn Malik and Gigi Hadid welcomed a baby girl in September.
View this post on Instagram
Katy Perry and Orlando Bloom also had a baby girl this August.
View this post on Instagram
Shilpa Shetty Kundra and Raj Kundra welcomed their second child in February.
View this post on Instagram
Kalki Koechlin and her boyfriend Guy Hershberg welcomed their baby girl in February.
View this post on Instagram
Some other couples who had new additions are Ed Sheeran and wife Cherry Seaborn,
4. Brad Pitt And Jennifer Aniston
Our jaws dropped when a photo of ex-couple Jennifer Aniston and Brad Pitt smiling at each other backstage at the SAG Awards went viral. And then again when the two reunited for a virtual reading of Fast Times At Ridgemont High.
View this post on Instagram
5. Bollywood Showcased Their Hobbies And Talent
When Tinsel town stars couldn't step out, they kept themselves occupied by indulging in different activities and pursuing hobbies.
Katrina Kaif learned how to play the guitar.
View this post on Instagram
If Bhumi Pednekar weren't an actor, she would certainly be a top beauty blogger. Her makeup videos, which she experimented with in lockdown, were proof.
View this post on Instagram
Who knew Alaya F. had great artistic skills?
View this post on Instagram
6. Priyanka Chopra Jonas And Brack Obama's Memoirs
PeeCee unveiled the cover of her upcoming book Unfinished. The thoughtful and intimate memoir, which will be launched in January 2021, will take the readers through Priyanka's childhood, the challenges she faced while navigating through her career in India, Hollywood and more. "Having been a public person now for 20 years, with so much life to live and a long list of things to check off my list personally and professionally, I am very much #Unfinished. BUT the funny thing about writing a memoir is that it forces you to look at things differently, reconciling so many things you thought you had put to bed," she had shared on her Instagram.
View this post on Instagram
Former US President Barack Obama released his intimate memoir titled A Promised Land. "The book is an honest accounting of my presidential campaign and my time in office, the key events and people who shaped it, my take on what I got right and the mistakes I made, and the political, economic, and cultural forces that my team and I had to confront then — and that as a nation we are grappling with still," Obama had said in a statement.
View this post on Instagram
7. Zendaya Made History
Zendaya was on a roll. She became the youngest person to ever win the Best Actress In A Drama Series for the Emmy Awards 2020 and had a priceless reaction!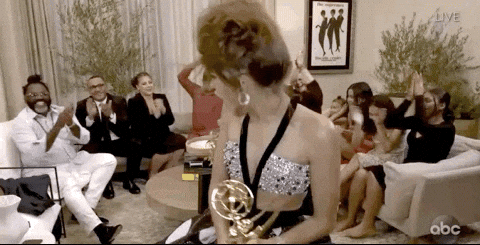 8. John Krasinksi Started Some Good News
Best known for his role as Jim Halpert on the hit American mockumentary, The Office, John Krasinksi started a social media show called Some Good News. He shared positive events worldwide to take our mind off from all the negativity 2020 brought us. Our favourite moment was when he reunited some members of The Office's cast on his virtual show.
View this post on Instagram