The actor who plays Gina Linetti in Brooklyn Nine-Nine is literally her IRL. Here's proof
Calling all Nine-Nine fans
There are two types of people in the world: People who watch Brooklyn Nine-Nine, and people who don't know who Gina Linetti is. If you watch the show, you probably love Gina (don't talk to us if you don't). Chelsea Peretti's role as a self-absorbed assistant has made her a fan favourite over the years. Her straight-faced sarcasm is hilarious, and she's provided some of the best moments of the show.
A lot of viewers (including us) were bummed when she made her final appearance as a series regular in the sixth season of Brooklyn Nine-Nine.
But if want to continue being a part of the Gina Linetti fan club or 'The G-hive' as she has fondly named them, follow Chelsea Peretti on Instagram. Because the actor and comic has blurred the lines between her and Gina, if you ask us. Scroll down for proof: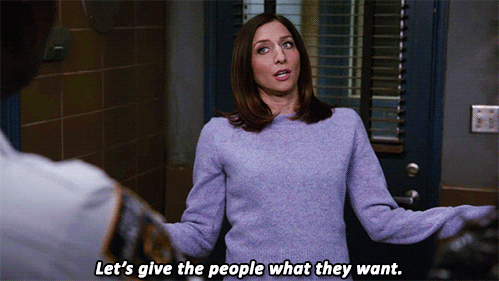 It's quarantine time, and Chelsea Peretti is giving us make-up tips to brighten our day. However, unlike the rest of the Insta fam, Chelsea's makeup tutorial seems like something Gina would do to prank the squad.
View this post on Instagram
Is this a cry of help for the Nine-Nine squad to come save her?
View this post on Instagram
Chelsea/Gina excels at many things, including replicating makeup trends:
View this post on Instagram
While the rest of the world gives us in-depth tutorials on how to be a sous-chef at home, Chelsea gives us a nameless look at her rice dish, classic Gina style.
View this post on Instagram
If you missed Gina giving (not so) helpful advice on the show, you'll love this gem on how to battle insomnia:
View this post on Instagram
Every now and then, whenever you miss Gina on the show, you can always head to Chelsea's IG account and get your daily dose of belonging to 'the G-hive.'