Let's face a universal fact. Gifting your dad something (even a pen), leads to something like this:
"Why did you get me a gift?"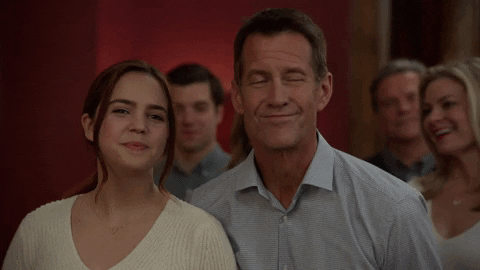 And now that Father's Day is around the corner, ditch those cards, flowers and 'nice pens' for a casual day with your dad. Here's what you need to do: Take the steering wheel and ride straight into these movies (with popcorn, of course!).
The Pursuit of Happyness 
Starring Will Smith and Jaden Smith, this movie is bound to leave you reaching for a tissue. Inspired by the true story of Christopher Gardener, Will Smith takes the role of a struggling salesman who lands an unpaid internship at a prestigious stock firm. Now, he and his son must endure the hardships in pursuit of the little one's dreams.
Learning point: If you have never realised what your dad does for you BTS, then this might be a window to that.
Father Of The Bride
As a bride, it's practice to have your father walk you down the aisle. However, when it comes to George Banks in this classic movie from the '90s, the tables take a turn. When his daughter, Annie, decides to get married, he has a hard time letting her go.
Learning point: Regardless of the situation, fathers are and will always be possessive.
https://www.youtube.com/watch?v=rqkYIr40k6s
Like Father
This movie follows a young, workaholic advertising executive who is left at the altar by her to-be husband. The woman then ends up taking her honeymoon cruise to the Caribbean with her estranged father. Will she reconcile with her father?
Learning point: It's never too late to realise the value of love, life and family.
What A Girl Wants 
Fresh and light-hearted, What A Girl Wants is your classic rom-com that is packed with a lot of heart, warmth and feels. On a whim, Daphne decides to board a plane to England to meet her father (who she has never met). Upon arrival, she learns that he is a prominent politician in the country. Will she confront him? Will he remember her?
Learning point: No matter the distance or time, fathers will always have a soft corner for you.
Mrs. Doubtfire 
Considered to be Robin Williams's best performance, this movie is both funny and emotional. In order to spend more time with his children, divorced actor Daniel turns himself into Mrs. Doubtfire, an ageing Scottish nanny, working at his ex-wife's house.
Learning point: Nothing can replace a father's love.
Which movie are you watching this Father's Day?