How can I be trusted in self-isolation while simultaneously being left alone with my bathroom mirror? I can't be the only one to admit that picking my skin and inspecting every pore is one of my favourite pastimes. Sometimes it's stress, sometimes it's the satisfaction of popping a whitehead on my nose.  Give me another 20 minutes and I'll investigate the surrounding pores. And there's got to be something around my brow as well—that's got to go too.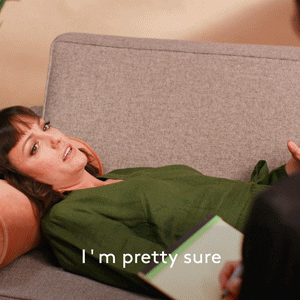 Picking your skin is like binge eating chips at 3 am, then waking up guilty and bloated the next morning. This habit was at its peak in my 20s and after several aestheticians warned me about the hyperpigmentation his triggered, I buried my million-watt magnifying glass in the deep end of the closet. But with little to do during social distancing, the sudden urge to push, mash, maul and annihilate skin between my index fingers returned. Right now, I'm sitting with an inflamed bump of impressive topographic intensity on my forehead thanks to some nervous exorcising.
So what do you do when you're in quarantine and need to fix the damage that's been done? The first step to redemption: Get away from the mirror and ice the inflamed area (or the whole face, no judgement). I wrap a cube in a thin piece of cloth and gently massage my face for ten minutes. A cold jade roller has worked just as well in past. Unless your dermat prescribes it (Google doesn't count) resist carpet bombing your skin with exfoliators and drying acne treatments.
Follow a minimalist approach with a gentle salicylic acid cleanser to remove any leftover debris and bacteria from the site. Apply a calming moisturiser with ingredients like, Centella, aloe vera, niacinamide—remember, hydrated skin heals quicker. If you've managed to draw blood and are dealing with an open wound, seal the deal with a benzoyl peroxide cream that acts as an antibacterial shield. Most importantly, leave it alone to heal—and do not pick at the scab, we've done enough damage already.
If you must spackle the site with concealer, do it with an oil-free non-comedogenic formula. And unless you've mastered Huda Kattan's techniques, prepare for the make-up to crack and flake within hours. Once the skin starts to heal it could turn deep brown and if you're lucky this is mostly temporary. If, like me, you're not as blessed, try a vitamin C or kojic acid serum to brighten skin, or retinol to increase cell turnover and fade all evidence of this offence. And the next time you feel the urge to pick at a pimple, throw on a pimple patch or blackhead removal strip—believe me they are just as gratifying.
Here are 5 products that will always come through:
Invalid slider id. Master Slider ID must be a valid number.