Here's why Kamala Harris' acceptance speech outfit has made a huge buzz
Her white pantsuit was a nod to the suffrage movement
As the US 2020 Elections finally came to a close with Joe Biden as the new President-elect, much of the spotlight has been on his running mate, Kamala Harris who has made history by becoming the first woman, the first Black and also the first South-Asian as the Vice President-elect of America. When she took centre stage to give her acceptance speech, we couldn't help but take note of her attire for the night. And no, it had nothing to do with style but rather, had a deep-rooted meaning.
View this post on Instagram
Harris opted for Carolina Herrera's white pantsuit, which linked her election race to the fight for women's rights. But what is the significance of the colour, white? Let's go back in time. White has been long associated with the women's suffrage movement. Back in March 1913, a day before Woodrow Wilson was inaugurated as President, more than 8,000 women paraded down Pennsylvania Avenue in Washington D.C. in white clothes to demand a constitutional amendment giving them the right to vote. Since then, a lot of female politicians have donned the colour on significant occasions.
View this post on Instagram
Shirley Chisholm wore white when she became the first African-American woman to be elected to Congress in 1968. Geraldine Ferraro wore an all-white outfit when she accepted her nomination as the first female vice-presidential candidate in 1984. Hillary Clinton donned a white pantsuit when she accepted the Democratic Presidential nomination in 2016. Fast forward to 2020, and Kamala Harris has only taken their act of symbolism ahead. Even her pussy-bow blouse was symbolic historically as the first British Prime Minister, Margaret Thatcher wore the same during her tenure to mark femininity in a male-dominant environment.
Shirley Chisholm
Geraldine Ferraro
Hillary Clinton
Margaret Thatcher
As opposed to her acceptance speech outfit, Kamala Harris' general sense of style has been very simple, yet crisp and elegant. She has always opted for suits in subdued tones along with pearls and ditched the traditional norms of political dressing by choosing to wear a pair of Chuck Taylors. 'Comfort first' is her priority and she doesn't allow her outfit to get in the way while she's on duty. Swipe through for a look at her take on power dressing:
So, it's safe to say that her choice of clothing for the night of her acceptance speech wasn't an accident. She wanted to make a strong statement with an empowering message to the women of America. Kamala Harris has trailblazed her way forward, opening new avenues for the future generations of women, while not forgetting the women at the grassroots of the movement, who forged the way for her success. Here's to breaking the glass ceiling!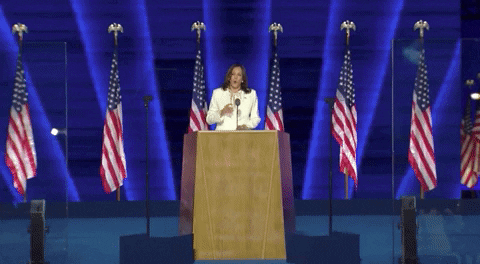 Photographs: Instagram