For those of us who grew up reading Roald Dahl's 'Charlie and the Chocolate Factory', visiting a chocolate factory was the ultimate life goal. We dreamt of silky, chocolate fountains leading into silky, chocolate rivers, trees with edible leaves and an edible bark, and tiny, orange Oompa-Loompas leading us through. Well, fellow chocoholics, do we have news for you — Lindt has opened the doors to its Home of Chocolate, the world's largest immersive and interactive chocolate museum.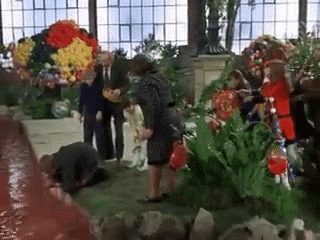 At 65,000 square feet, with minimal, clean, Swiss design (and a whole lotta chocolate!), the chocolate museum is everything we dreamt of, and so much more (no Oompa-Loompas in sight though, sorry.) Here are the highlights from the museum:
The chocolate fountain
Move over, little chocolate fondue stations you see at desi weddings. The Lindt chocolate museum has a 9.3 meters long fountain (or twenty bowling pins stacked on top of each other) which weighs 3 tons (or the weight of half an elephant). The ginormous fountain of our dreams is the centrepiece in an otherwise minimal gallery and has 1,500 kilos of real, Swiss chocolate. Or as we like to call it, a midnight snack.
The chocolate courses
Raise your hand if, at some point in your life, you've managed to pinpoint exactly how you could improve your favourite bar of chocolate. For the critics and Masterchefs in all of us, the museum offers chocolate courses which let you customise everything from candy-bars to lollipops, under the guidance of Swiss chocolatiers. Sign us up!
The chocolate tour
If you've ever been curious about why Swiss chocolate tastes so good (personally, I've always believed it was the doings of a wizard with a long grey beard and a top hat who waves his wand around, but to each their own, right?) the museum has an interactive, guided tour where you can experience the chocolate making process for yourself — from cultivation to creation. Oh, and there's a pilot chocolate factory where they show you how Lindt chocolates are made. Willy Wonka who?
The chocolate café
Okay, so you've seen how the chocolate gets made, you've seen the Goliath of a chocolate fountain and you've had your Charlie and the Chocolate Factory moment — which probably means that right about now, your chocolate-addled brain is craving some of that cocoa goodness. Enter the chocolate café — a sinful haven with decadent, rich desserts (and some savoury options so you don't OD on sugar) and Lindt's special hot chocolate options, which is bound to hit the spot. (Also, chili and Tobasco in hot chocolate? This we've got to try.)
The chocolate shop
What's a visit to the chocolate museum without hitting up the chocolate shop? And with 500 meters square of this chocolate shop, you know you're going home with a lifetime's supply of chocolate — if not more.
Photographs: Lindt, Home of Chocolate