Victorian-inspired gowns with taut bodices. Bustle skirts paired with two-face framing tendril hair. And an accent that's difficult to emulate (but regardless you try). Yes, we're talking period dramas. From Jane Austen's Pride and Prejudice to the recently hit period drama Bridgerton, fact remains that we all secretly harbour a desire to look royal, to speak royal. Even if its decades ago in a worn-out castle.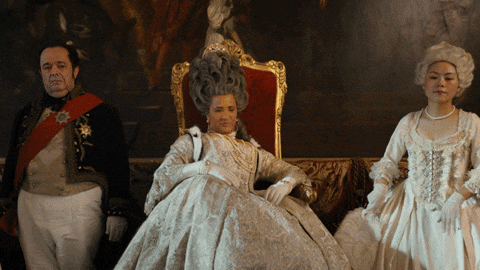 If you've found yourself scrolling mindlessly in search of entertainment that resembles the allure of the bygone era, then count on us for help. Ahead, we've lined up seven period dramas you need to binge-watch next until the beloved Lady Whistledown makes a return for season 2.
1. Versailles
Follow the story of a young King Louis XIV as he uproots his court near Paris in order to move to Versailles and regain control of the nobles. As the King rebuilds his father's old hunting lodge into a decadent, gold-gilded palace; he's engulfed with drama, scandals, political scenarios and plenty of affairs to keep you on the edge.
Watch on: Netflix
2. Downtown Abbey
For a classic scoop of British drama, deep dive into Downtown Abbey set in the fictional Yorkshire country estate. The series of six seasons depict the lives of the aristocratic Crawley family and their domestic servants in the post-Edwardian era. What's more? The show is packed with great events having an effect on their lives and the British social hierarchy.
Watch on: Amazon Prime Video
3. Mr Queen
K-drama? Check. Period K-Drama? Double-check. Based on the original Chinese web series Go Princess Go, Mr Queen is about a chef named Bong-hwan from the modern age who is trapped in the body of Queen Cheorin of the Joseon era. Chaos and drama ensues when Queen Cheorin discovers that King Cheol Jong (her husband) holds secrets, and is not as gentle and meek as he seems.
Watch on: Rakuten Viki
4. Marie Antoinette
Winner of the Academy Award for Best Costume Design, Marie Antoinette retells the story of the iconic but ill-fated Austrian-French queen who is pressured to bear an heir to the French throne. From her larger than life, luxe lifestyle to her rise from a teenage bride to a young queen, the unconventional costume drama charts it all. All you need is two hours from your schedule.
Watch on: Netflix
5. Vanity Fair
Based on the eponymous novel, Vanity Fair follows poverty-stricken Becky Sharp as she attempts to claw her way out of the dregs of society to scale the heights of English society in the years following the defeat of Napoleon. In a world where everyone is striving for what is not worth having, no one is determined to climb to the top like Miss Sharp.
Watch on: Amazon Prime Video
6. A Little Chaos
Looking for a blend of period drama and romance? This one's for you. Starring Kate Winslet of Titanic fame, the movie follows a project to build a garden as announced by King Louis XIV for the Versailles palace. What happens next is a tad obvious: two young artists meet and fall in love. But with a star cast like late Alan Rickman and Kate Winslet, this one's definitely worth a shot.
Watch on: Netflix
7. Reign
Packed with action, intrigue and love, Reign covers the life of Mary, Queen of Scotland. The series commences with the young queen living in a convent before she is whisked away to wed her cousin Prince Francis II. Ultimately, this sets her on a path to enter the dangerous world of politics and passion.
Watch on: Amazon Prime Video
Photographs: Instagram