A Brief Investigation Of All The Easter Eggs Taylor Swift Has Hidden In Evermore
Settle down, we have a lot to unpack here
If 2020 has taught us anything about the music industry, it's that Taylor Swift is a creative powerhouse. From fighting for ownership over her master records to re-recording her older songs, to releasing an album in quarantine, the singer-songwriter has been killing it. And it's safe to say that she is the gift that keeps on giving, as she released a second quarantine album, titled Evermore, an enchantingly beautiful record.
View this post on Instagram
And as I spent the weekend listening to the record quite intensely (to the point where I had to ask my boyfriend to break up with me for an hour and 38 minutes, the length of the album, so I could really feel it), I decided to take a closer look at some hidden messages. Taylor Swift is infamous for scattering easter eggs all over her album, so why would this one be different? I put on my investigating hat, took out a magnifying glass, and here's what I came up with in my intensive investigation:
Dorothea Is Maybe (Probably) About Selena Gomez
While we're not ones for speculation, the evidence here is damning. From the line "Ooh, you'rе a queen sellin' dreams, sellin' makeup and magazines," which is probably a reference to Gomez's Rare beauty line, and her multiple magazine covers, to the bit where she sings "you're tired of being known for who you know," which is probably about Selena's ongoing Justin Bieber drama, it's pretty evident who Taylor Swift is referencing in this song. Or is it?
View this post on Instagram
… Or It Could Be The Name Of Gigi Hadid And Zayn Malik's New Baby
After releasing Betty, which was later revealed to have been named after Blake Lively and Ryan Reynold's daughter, fans are speculating that Dorothea could also be the name of baby ZiGi. On another note though, the fictional Dorothea exists in the same realm as the 'fictional' characters from Betty. The plot thickens!
Evermore Is Partly Inspired By Emily Dickinson
If you're a literature buff, and the cottagecore references from Evermore seem familiar, it's because trailblazing poet, Emily Dickinson partly inspire the album. Fans noted that Dickinson's poem, "One Sister Have I in Our House," ends with "From out the wide night's numbers / Sue — forevermore!" Coincidence? Swifties think not.
View this post on Instagram
Long Story Short Is Packed With Drama
A track that may seem like a relatively 'normal' one at first listen, Long Story Short covers a deeply intimate, four-year history of Taylor's life. From referencing the Kimye feud of 2016 with the lyrics, "and I fell from the pedestal", to her brief, whirlwind romance with Tom Hiddleston with the lines, "Clung to the nearest lips/Long story short, it was the wrong guy," Swift definitely knows how to weave in the deets of her life poetically. But all seems well, as she mentions that she's happy and secure with her relationship with Joe Alwyn in the song.
Speaking of Joe Alwyn…
He co-wrote three of the songs, namely Evermore, Coney Island, and Champagne Problems, under the pseudonym William Bowery on the album. Also, fans are speculating wedding bells for the couple too, since one of the lyrics, "I drink my husband's wine," seems to have sent the internet in a tizzy. Also, the couple neither denied, nor confirmed the rumours. Seems suspicious, that's all we're gonna say.
View this post on Instagram
There May Be A 'The Crown' Reference
Okay, so Taylor Swift generally saves the 5th track in her album for the most heartbreaking one, and Tolerate It from Evermore is no different. But, get this – the track may have been inspired by Princess Diana and Prince Charles' turbulent romance. Fans speculate that Swift wrote the song after watching the fourth season of The Crown, as the song takes the perspective of a person desperate for validation from an unaffectionate partner, leading many people to think of the royals' rocky marriage.
A Third Album Might Be Coming Soon!
Fans spotted the words 'Woodvale' on the cover of Folklore, and decided that it was the title of the third album, a part of the folklore-evermore trilogy. And while Swift herself debunked these claims in a rare interview with Jimmy Kimmel, we're not going to put it past her to surprise us with a third album.
While 2020 has been a tough year, I think we can all collectively agree that Taylor Swift brought us some joy in this gloomy period. In her words, 'tis the damn season and she's definitely made our holiday season brighter. Thank you, Taylor!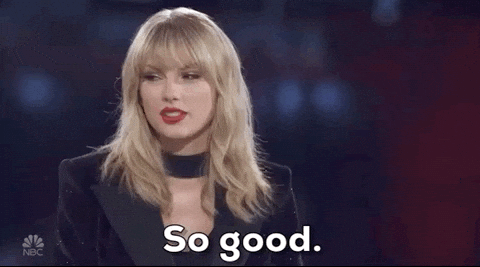 Which song from Evermore are you streaming on repeat?