What exactly is 'BL'? For those unfamiliar with the term, BL stands for Boy Love and is frequently used in queer shows, books, and mangas. In a world full of heteronormative rom-coms, Thai Boy Love (BL) dramas have carved a niche for themselves acquiring a whole separate fan base. The fantasy and escape from reality that rom-coms so often sell to the cis-het audience are what BL offers to queer people. Regular watchers of Thai dramas might notice the similarities with K-dramas in that they are also filled with cliche romantic tropes like enemies to lovers, childhood best friends, etc., but what sets BL aside is the reliability and more mirrored representation for queer people that's still a struggle to find in mainstream media.
Queer people deserve joyful stories and when it comes to Thai BL, stories revolve around men who love men and are shown in an almost fairytale-esque way, sans the discrimination, and the challenges faced by the protagonists are benign, wonderfully overshadowed by the romance and comedy aspects of the plot.
THIS IS SO CUTE DONT TOUCH MEEEEE. AND THE WAY HE PATS HIS HEAD ???? HELLO ?????? #2gethertheseriesep1 #2getherTheSeries #Brightwin pic.twitter.com/kdr3ctp6FX

— ✦✦✦ (@lana_anray) February 23, 2020
According to a BL fan from the queer community, Juderic Braganza says, "The fantasy and escape from reality that western romcoms so often sell to the hetero audience is what BL offers to queer men; it feels so surreal to be represented with the normalcy of daily life without a struggle story that capitalizes on queer trauma for brownie points…"
A noteworthy mention here is the Thai drama 2gether: The Series that captivated Indian audiences and blew up the BL drama phenomenon everywhere around the globe. Based on JittiRain's bestselling novel of the same name, the series follows Tine, a college freshman law student eager to meet girls and explore university life. A persistent gay admirer pursues him, and to rid of him he starts dating the college's heartthrob Sarawat and here is where the drama develops.
So, if you are a sucker for romance but tired of regular dramas this list is just for you:
1. 2gether: The Series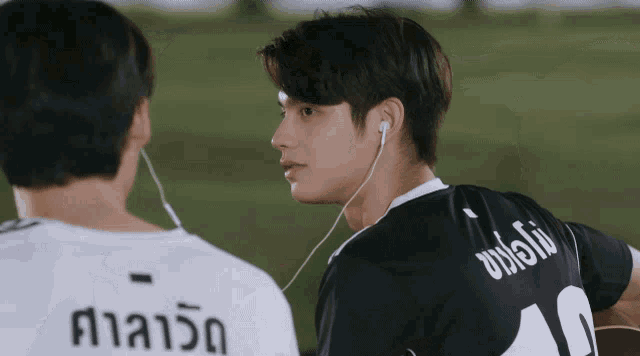 This BL's plot has the fan favourite fake dating trope featuring Tine who is an extremely good-looking college student and cheerleader, while Sarawat is one of the most popular males at school and a leader in the soccer and music team. When Tine is pursued by Green, whose feelings he does not reciprocate, he begs Sarawat to appear to be dating him so that Green will leave him alone. In an age-old story, deception gradually gives way to reality. However, before a "happily ever after," there must be the process of falling in love and the growing knowledge that they are no longer pretending. This show is a good start for everyone who wants to dive into the BL world.
Where to watch: Netflix
2. KinnPorsche The Series La Forte
If you are a sucker for mafia stories, this show is definitely made for you. A bodyguard and his boss falling in love is the kind of plot we would pay extra to watch.  Kinn Theerapanyakul, the second son of a Mafia lord, is fleeing an enemy when he meets Porsche, an ambitious young bartender. Porsche agrees to help Kinn defend himself against his attackers—for a price. Porsche's martial arts skills impress Kinn, who, encouraged by his father, attempts to enlist Porsche as one of his personal bodyguards. Despite Kinn's intimidation, Porsche is resistant and refuses his proposition. Porsche doesn't agree to live on the Theerapanyakul property until his family home and capacity to care for his brother are endangered. It's not an easy adjustment for him- he has had a unconventional, violent career, and his relationship with Kinn oscillates between strained and playful. When his affections for Kinn take an unexpected turn is when things get more interesting.
Where to watch: iQIYI
3. Bad Buddy
Bad Buddy is a Thai BL series about two university students who are fiercely competitive (classic enemies-to-lovers trope). The main characters are two neighbours whose families have been feuding for decades. Friends from the engineering and architecture departments are likewise embroiled in an unresolvable conflict. Despite the hatred around them, these enemies are growing closer rather than antagonising one another. Bad Buddy is a BL masterpiece from start to finish. The epic plot, romance, and captivating performers all work in perfect harmony.
Where to watch: YouTube
4. Theory of Love
Showcasing a very classic and cliche friends-to-lovers saga, this story is about Third, who like his best buddies Two, Bone, and Khai, is a filmology major and a member of the Savage Team, but he has a secret. For years, Third has been secretly in love with Khai.  He has kept his feelings for Khai hidden in his heart, silently supporting and loving her despite knowing there is no future between them because Khai is as straight as a streetlight pole and an absolute player. To compound problems, Khai has a "no dating friends" policy. If you deep dive in the story it has a very mirrored representation of queer love stories.
Where to watch: KissAsian
5. Lovely Writer
A shy author Gene rises to fame when his romance novel gets adapted into a popular series. He is flustered by all the media attention from the celebrity world, especially after one of the handsome actors Nubsib takes an interest in him. When both characters suddenly become roommates, sparks fly. This BL has a well-written story and is powered by many charming scenes and memorable characters. It is also packed with non-stop adrenaline, hyper energy, and a vibrant sense of humour.
Where to watch: KissAsian
Also, read 5 K-Drama Love Languages That We Crave