If you've been to the cinema recently and watched Bollywood movies, you might be convinced that the next Gujarati you meet is going to be enthusiastically twirling around in the lehenga. I apologise for being the bearer of bad news but we (I say we because I am a Gujarati myself) pretty much go about life wearing clothes that well, everyone else wears. You might also buy into the theory (beautifully sold by Bollywood) that we talk in an accent. Again, I must tell you that we don't. Another thing you probably believe is that we break into garba at every given opportunity. See, here I want to tell you that yes, this is very true. We do enjoy our garba very much and derive much pleasure from clapping to rhythm.
Bollywood has liked Gujarati culture for a long time, but recently that love seems to have intensified. Of course, for a long time, much like any other culture in the country, the people of Gujarat were included in the movies to provide comic relief. But now entire movies, shows etc seems to be based in the state or on its culture.
Gujarati Love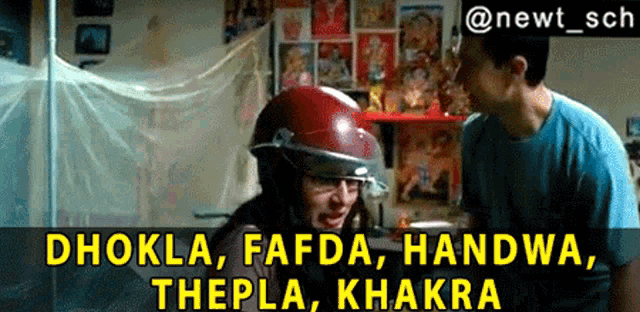 There have been passing mentions of the culture- one character from the state who has a thick accent-or the food. In 3 Idiots, a very animated Kareena Kapoor talks about how the good of Gujarat has some very heavy sounding names. She's right though, Dhokla, Fafda and Thepla do sound like they do serious damage. Which by the way, if you do eat in large quantities, they could do stuff to your stomach. In the same movie, Aamir Khan is a Gujarati but there's barely any mention of his Gujju-ness, except in Kareena's dialogue. He doesn't immediately drop everything and pick up dandiyas. In Harry Met Sejal, Anushka Sharma's character Sejal is Gujarati, a fact that is repeatedly established by her accent. The accent, of course, comes and goes as it pleases so I am not sure there was a need for that to be included at all.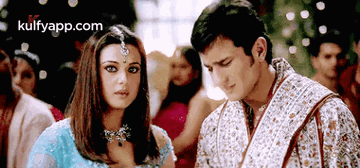 One of the most enduring memories of Gujju love is the song G.U.J.J.U in the movie Kal Ho Na Ho in which Saif Ali Khan is Gujju. The enthusiastic rendition comes much later in the movie but very tired jokes about the Gujarati accent are peppered throughout the movie. The 'hall' being pronounced as 'hole' – you know the kind. You can tell why we weren't exactly doing cartwheels in excitement. But the song, an ode to the food, culture and entertainment provided by Gujarat was equal parts fun and entertainment and we would take that any day.
Bollywood's Romance With Gujarat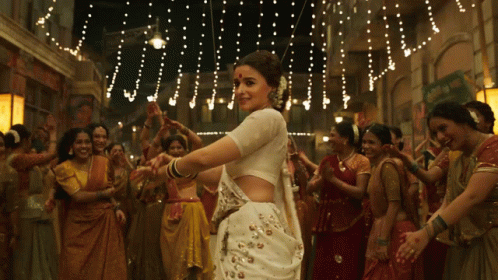 Sanjay Leela Bhansali has a love for Gujarat and its culture. Can you tell? His latest outing, Gangubai Kathiawadi, although based in the bustling streets of Mumbai had a Gujarati character central to the plot. Alia Bhatt's Gangubai's Gujarati-ness is mainly established through her clothes – largely ghagra cholis – and through her dance which (you guessed it) is garba. Sanjay Leela Bhansali has previously also shown his love for the state with Ram Leela where the lead characters prance around seductively in ghagras and a kediyu.
Now, Jayeshbhai Jordaar is all set for a release and Ranveer Singh's character in the movie (if you've read the article till here, you already know what's coming) is Gujarati. The accent proves it, the addressing of the characters in the trailer shows it.
What Does Bollywood Get Right About The Gujarati People?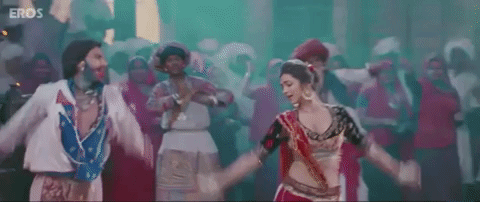 Bollywood hasn't been known for being nuanced but it gets a few things right about the people of Gujarat. One, that we do love our garba. The dance is one that we hold close to our heart and that we enjoy performing thoroughly. The music, the energy, it's different during Navratri- the 9 days during which the festival is celebrated. Bollywood certainly gets that right.
Bollywood also gets our obsession with food right. While Kareena may talk about the foods sounding like missiles, it is also true that we are a food-loving community. There are days dedicated to having fafda and jalebi like Dusshera. We also love our dhoklas with an alarming amount of passion. Winter season also brings about undhiyu parties. Much of our lives revolve around food. As any Gujarati will tell you, we do not embark on any trip without stocking up on thepla.
What Bollywood Doesn't Get Right
For starters, we don't all walk around wearing ghagra cholis. In fact, we barely wear them ever now, unless it is garba time, of course. We do not go to work in these elaborate outfits, we do not have the dupatta draped seductively over only one boob and we certainly do not twirl around in these outfits so that we accidentally end up giving people whiplash burns. I tried that once and the train ladies practically threw me out.
We also do not talk with THAT accent. Sure, sometimes the way we say a word sounds different but most of us are able to pronounce snacks perfectly, without making you think of reptiles. And by the way, if we are really getting down to it, the accent from different parts of Gujarat is absolutely poles apart. But nope, most of sound nothing like Sejal (from When Harry Met Sejal), a poor caricature of how we speak.
While we love that Bollywood has its eyes trained on the culture of our state, perhaps we could also showcase the cool side of Gujarat? Just saying.
In completely unrelated news, I also wrote about pubic pigmentation.