An enduring memory of Main Hoon Na is Shahrukh Khan walking towards the camera emerging from the smoke, looking dapper, a Burberry scarf casually draped around his neck. You know what I am talking about. In the same movie, Sushmita Sen's diaphanous sarees went on to become so iconic, they at once became a trend and a character in the movie. We remember characters from movies and of course the actors bring them to life adding in quirks and mannerisms but not nearly enough is said about designing the look. The people working behind the scenes to establish character through the clothing, accessories, hair, and makeup. These come together to create a cohesive look- one that enables the audiences to make accurate conclusions about the character, their style, their social settings, so much more. While we are rarely privy to the details of it, there are mood boards, reams of clothing and hours spent meticulously pinning down a look that works. It's a huge responsibility.
And while the role of designing the look is crucial, it also means that there are many, many costumes that are discarded to arrive at the one that finally makes to the screen. Not surprisingly, this could mean lots fo wastage – a problem that none of can choose to look away from any more.
To understand the consumption and current scenario of the Indian costume industry, we caught up with costume designers Rushi Sharma and Manoshi Nath to discuss matters on sustainability in costume design. The duo have been actively practicing sustainable costume design through their films, something we certainly want to see more of. 
ELLE:  How do you keep your sourcing sustainable? Could you elaborate on your process?
Manoshi Nath: Rushi and I first began analysing film consumption during the extensive costume design of Thugs of Hindostan at large. There was a requirement of enormous quantity of clothes, armour, jewellery, and footwear we created for the periodic film. It is when we established ground rules on how we would approach design thinking, starting with sustainability. To make things easier, we developed a sustainable goal sheet, which is often driven by multiple external factors and departments. However, for us, these were just the first steps on our road toward creating sustainable costumes; in each movie, even the smallest success was a victory. Our list of objectives were extensive.
1. To source from handloom artisans, ready to wear homegrown brands – that work with natural/sustainable fabrics following all sustainable ethos. We also ensure that we make purchases of clothing and accessories from grassroot craftsmen.
2. Providing employment opportunities through fabrication with small-scale tailoring units or providing work to homemakers leading to skill development.
3. Buying pre-loved stock from old films, export rejects, fabric surplus, revolve brands, and second-hand godowns.
4. Paying close attention to the materials we will be displaying, switching to vegan leather and natural products, sourced locally, and highlighting Indian craftspersons and homegrown brands to promote awareness. 
5. Opting to work on sponsorships and rentals with brands so products can be returned after use.
6. Lastly, we always put a word out to producers to sell their old stock to us or carry it forward from our films. In the end, we donate whatever is unusable.
For example, we designed costumes for Detective Byomkesh Bakshy, Thugs of Hindostan, and Shamshera, which are all YRF films. For the costumes, we managed to plan and divide them among the films while up-cycling and recycling them according to the requirements of the characters. The fits were extensively sourced from Khadi gramodyog, while the fabrics were purchased from weavers across India. The sweaters and other knitwear in these films were knitted by women in Dehradun and Shimla.  
ELLE: The requirements for movies and looks are pretty extensive. Do you face hiccups in sourcing entirely sustainable looks for films?
Rushi Sharma: In the world today, nothing anyone undertakes can be completely sustainable if you take the entire cycle into account. However, we make every effort to uphold as many moral standards as we can. In order for us to be as ethical as possible throughout the process, we ensure the fabrics must be sourced ethically – the farmer, kaarigars, masterjis, and every other person engaged in the manufacturing or purchase is adequately compensated. And when we say "fair," we don't just mean the minimum wage. The sustainability pillar is made up of people. We have put together an ecosystem for our supply chain, educating and engaging our artisans.
After taking care of the people, we believe that the planet should be next. Making sure to source organic fabrics or choosing to use recycled fabrics is a natural choice for us—surely not an easy one but an ethical one. Designing for movies entails following a script and the director's vision while bringing an imaginative, evocative figure to life.  Whilst this idea, sourcing sustainably can be a little tricky, since it's not a design for a collection or a client, the character takes precedence over many things. For our exploration, we try to focus our processes around the various surface techniques like dyeing, weathering, and up-cycling. 
For the film Maja Ma, we sourced primarily from artisans in Gujarat for Madhuri Dixit, Gajraj Rao, and others. During the search for Jayesh Bhai Jordaar, our journey through Gujarat—and particularly Kutch—helped us create a network of connections that have made it possible for us to collaborate with artisans on project after project. In order to extend our exploration, we have started working with the ahimsa and eri silk communities in the region of northeast India. We envision showcasing the arts and culture of India on Indian television.
ELLE: When you up-cycle previously loved stock, do you see the stars/ characters being hesitant in these?
MN: In a film, costume consumption is on a much larger scale than just for the stars or main actors. We try to keep a holistic approach and employ recycling wherever possible, starting from the main actors to the supporting cast, uniformed cast, and background. We always try to take the actors into confidence and up-cycle only if they are on board with us. For example, refurbishing old sarees into newly designed garments or using vintage watches and jewellery to complete an actor's look and we have noticed that actors enjoy the process as well. 
At the end of the day, every person's concern is hygiene. Rushi and I make sure to reprocess the fabric next to the skin; otherwise, we use new fabric, and only the surface design is up-cycled. This is after the many stages of sanitization checks that we employ. However, the main actor has to be fit for the character requirement and such an opportunity, at times, is rare. 
Although we did get such a chance in PK with Aamir Khan's character, who is an alien who steals his clothes from shaking cars. For this scene, Rushi and I went to Mandawa, Rajasthan, and walked on the roads, convincing passersby to give us the shirts off their backs; we mentioned we would buy them. While we were on our hunt, we met an interesting man who got so excited that he gave us all the old women's clothing from his house, and it is from this bundle that Aamir's iconic yellow lehenga look was brought to life. Every piece of clothing worn by Aamir Khan in the film PK was secondhand and had an interesting backstory. 
ELLE: Once you buy stock, could you explain the process to creating a character's look? (From procurement to designing to fittings etc)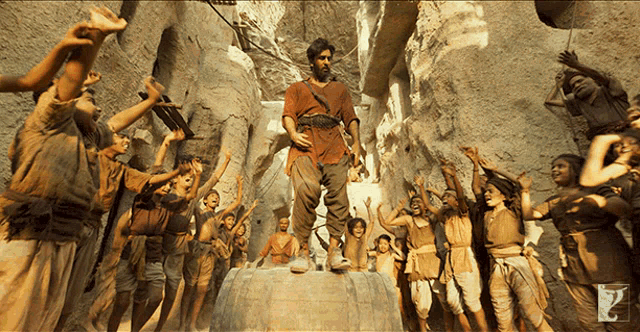 RS: Once the old stock from another film is bought, it does go through extensive cleaning, a fair amount of repairing and mending is done to make sure pieces look new, or if used in a film like Shamshera, to subject them to heavy weathering to suit the characters. This is where up-cycling techniques really help in transforming a costume to make it fit the aesthetics of the film. Sometimes, simply removing a zipper and adding a collar to a kurta with an additional surface design like tie-dye can adapt the costume to the character.
It is sometimes necessary to mix and match what truly fits the bill; for example, to style a specific character, we combined three old costumes to make one costume. It is a challenging and time-consuming process, but a beautiful one. Once the costume belongs to our world, final fittings with the actor playing the character does the rest of the deed. We believe the fittings are the most important and underrated step in the costume design process; they either make or break the character. Manoshi and I play a lot with the fittings in our look tests.
ELLE: If you do speak to producers about their old stock, are they hesitant to pass it on? Especially if the look has become iconic?
RS: We believe buying stock from older films helps get the dead stock pieces back into circulation, which is a great way to stay sustainable. We have made recycling costumes an important and necessary step in our costume design process. It helps us stay the course and also makes our producers happy to lower the costume budget in a big way. Buying old stock from producers who don't want to store these pieces also helps avoid landfills. Most producers are grateful when the old stock is taken off their hands since it frees up storage space, which is beneficial in cities like Mumbai where preserving costumes is expensive.
Recycling stock from one film to another is not only a good ethical practice but also good business. As designers, it's a challenge for us to take old stock of costumes that belong to another world of film and make them our own, but this power and responsibility really falls on the designer's shoulders. Manoshi and I really do love taking on this challenge. As designers, none of us want to repeat a look for our films; this is where we have evolved from making something new from scratch to creating a character's look from existing resources. We believe it's a new way of looking at design and the only way forward.
ELLE: Are celebrities comfortable with re-wearing looks that might have been featured on film/ a movie before?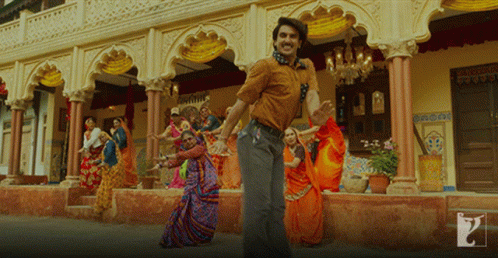 MN: When we reuse costumes, "recycling" after due sanitization can only be done for generic clothing, footwear, or accessories, which includes regular shirts, trousers, etc., but when designing characters, you have to "up-cycle," which means refurbish, modify, and redesign from preloved stock, and only if the character design allows it. A character cannot look like another character from another film; the look has to be modified completely. 
Actors are also learning about sustainability through the teachings of Bandana Tewari and Vandana Shiva, up-cycling with companies like Doh Tak Keh and various eclectic brands, thrifting from stores like Bombay Thrift Store, and other sources. In order for this to become an industry ethos, Rushi and I work towards establishing a community that supports one another across films, and we want to have further discussions with other costume designers as well.
ELLE: Does this process turn out to be more expensive than if you chose to run with fast fashion?
RS: Fast fashion degrades faster than quality goods because it is less expensive and uses cheaper manufacturing techniques and raw materials. That solves the dilemma for producers, who should spend money on high-quality products that may be reused and up-cycled in a variety of future movies.
The life of the costume doesn't need to end with the production of the film; it can get a new lease on life in the next film and the one after that. As we said, good ethical practices make good business sense. Furthermore, one must view the costumes in a film holistically: some will be brand new, a few will be fast fashion, a lot will be recycled and up-cycled, handloom artisans will be patronized, or "gramodyog," and co-operatives will be supported at every stage possible.
ELLE: What is the future of sustainability in costume design?
MN: The Gandhian idea of "sarvoday," or advancement for all, is one that Rushi and I both hold dear. We think that behavioural modifications start with one person and are passed on. Hence, we actively want to build a community where all costume designers can come together and share their knowledge and resources—one person's waste can become another person's wardrobe. Active conversation and the exchange of ideas can help build a network of costume designers who can help each other reduce the footprint we generate.
Also read about period dramas with historically accurate costumes, here