This is going to read much like a love letter to Shah Rukh Khan. I issue this caveat early on in this article. So if you're a fence-sitter about your admiration for the man, or if you perhaps don't see it, this might seem like fawning. I do understand also that there are hardly any platitudes that haven't been written about him. It's all been said, dissected, ad nauseam. And yet, despite this I feel this overwhelming need to talk about Shah Rukh Khan– the man, the actor, the enigma – as he celebrates his 58th birthday today.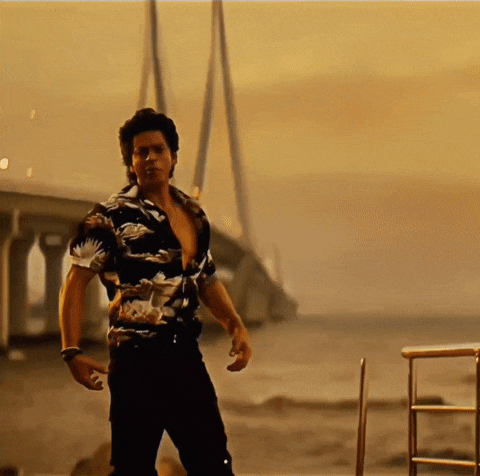 This year was particularly exciting for the SRK fan; Pathaan opened to packed theatres, Jawan got everyone back to the cinema and Dunki is all set to break box office records this year (I say this with a sense of haughtiness, I do). With Pathaan, the success it felt like a personal win. I endlessly scrolled Instagram watching reel after reel of people in cinemas dancing as the title song played out on the speakers.
And I did this with a smile pasted on my face. After Zero in 2018, this was SRK's first outing on screens. While we didn't see the SRK we knew- the lover boy capable of making women weak in the knees – we saw a raw, rugged Shah Rukh Khan and the audience thirsted after this version as well. I speak from personal experience, of course.
The Politics Of It
There's no escaping the fact that we lived in an increasingly polarised world. And as such, liking something and loving someone comes heavily loaded with undercurrents of beliefs and morals. So when you showcase your love for a star, you also subscribe to certain philosophies. Shah Rukh Khan has never been political- even if he has a film release. He abstains from voicing his opinions about his politics. And when cornered, in a press conference or otherwise, he often glosses over the question, disarming the audience with a witty comment, but never saying anything that would give away his personal beliefs.
For the Shah Rukh Khan fans, this offers a huge respite – if a star of his stature can carefully avoid committing to ideologies- we can too. For me, it's a breather. I don't need to choose sides, I can comfortably, happily park myself on the fence, qualm-free. This is quite liberating, and I do realise, a privilege, not having to choose. Not having a political stand, not having to defend it. Revelling in the thrill that SRK's political leanings are unknown and therefore offer a refuge to people like me who see the merit in this.
Loving Beyond Generations
There are many reels dedicated to SRK's soft boy era, the time where he played a lover boy, when legions of fans watched as he wooed women and strutted right into our hearts. His mischievous Raj Malhotra had women pining for a guy who would fly across oceans to strum a mandolin. His Rahul, 'Naam toh suna hoga' (you've probably heard the name), had people signing up for dance classes, in fervent hope that they were someone's Maya.
And in KKHH, Rahul with his misplaced beliefs about marriage and friendship, had all of us collectively embracing love in all its imperfect ways. While, of course, etching in history, what is perhaps the most apt and yet vague description of love. "Kuch kuch hota hai, tum nahi samjhoge" (I am feeling feelings, I am unable to explain). 
After this, we watched SRK explore varied roles, from an anguished misunderstood husband in Chalte Chalte, a tarnished patriot in Chak De India, to a superhero in Ra.One. So while the 90s kid grew up on the almost impossible to replicate SRK brand of love, the next generation saw him experiment and entertain. These guys grew up watching him in theatres, playing a man encouraging love while being anti-establishment in Mohabbatein. The rebellious kid found representation in his characters. In Devdas he played a pining lover, in K3G he taught an entire generation that it is okay to love your parents.
In Veer-Zaara, he showed them that true love was worth waiting for. Honestly though, if Shah Rukh Khan was on the other side of the border waiting for me, I would perhaps be okay spending 22 years in a prison. It was a whole new kind of love, one that encouraged waiting for a lover, celebrating a love that went beyond borders, appearances, and in some movies, beyond life. And now he's in his action hero era, and a whole new set of people born much later are watching him flex muscles, deliver hilarious witticisms and create songs that make us want to shake a leg.
This is perhaps why I am so unafraid of declaring my unabashed love for SRK. Because he stands for everything I believe in, while being funny and sarcastic. Now only if he would look my way, I shall swoon and fall dramatically and watch another generation get entranced by the sheer star power of Shah Rukh Khan.
Also read, missed all the pop-culture reference from Jawaan? Tap to read.