An online escape, diary and scrapbook for the 2010s' angsty teenager, Tumblr was an outlet for the 'outsider'. The era was defined by indie pop, alternative music and artists like Lorde, Lana Del Ray, The 1975, Halsey, Arctic Monkeys, Two Door Cinema Club etc. Tumblr teens took their Hogwarts houses very seriously, used 'vintage' vinyl records and instant film cameras and reblogged 'sad but artsy' posts about how misunderstood they were. In short, being unconventional was cool.
With the current zeitgeist centred around nostalgia caused by the tendency to revel in memories of the past when faced with unprecedented challenges— it's no surprise that the 2014 Tumblr girl aesthetic is the next to be cannonballed onto us after the Y2K craze. That being said, Tumblr also had a flip side that romanticised feelings of depression, heartbreak and promoted unrealistic body standards that contributed to eating disorders in many teens. The problem arises when we look back at this internet culture with rose-coloured glasses rather than an objective and rational lens. 
The style was a softer take on grunge— think combat boots, fishnet stockings, skater skirts, band tees, denim jackets, oversized flannel and converse high tops. The makeup involved edgy black eyeliner or smudged black eyeshadow, dark lips and dip-dyed hair, often tied up in space buns or messy updos. Pop culture examples of the style include Effy Stonem from Skins, Kylie Jenner at Coachella in 2014, Kat Hernandez from Euphoria, Maeve Wiley from Sex Education. Looks like fashion's 20-year trend cycle theory has been hijacked by the TikTok cycle with videos tagged #2014Tumblr having over 90 million views on the platform.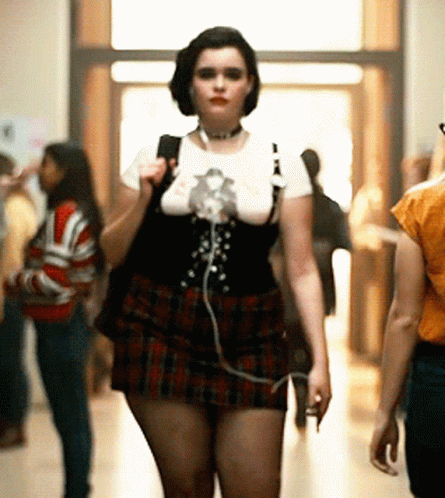 It's funny how Gen Z does not want to be Gen Z and desires to live in times they never really got to experience completely. While borrowing fashion trends from the Tumblr era is harmless, immersing oneself in that world might not be. In 2022, as the 2014 Tumblr girl resurfaces from the fashion purgatory, let's leave the toxic aspects of it behind and bring our own individuality to the trend.
Read about Why Are All The Cool Kids Back To Wearing Wired Headphones?