A few years ago, I was looking for the name of a band after discovering them in a YouTube video, the beginning of what was going to be a fandom that has lasted a few years. Now I am a firm BTS fan, part of what is aka the Army, and who knew a simple search would introduce me to a whole new world? Today, Grammy-nominated BTS, needs little to no introduction. When I first started listening to this group, only a few people knew about them. At the time, the umbrella term used was K-pop limiting the scope of the music, reducing it to a genre, which is it not. There are many genre within K music, this is just one. Now BTS is celebrating their 10th anniversary today, having paved the way for other K-pop groups like BLACKPINK, Twice, TXT, and more to spread their wings and reach a larger global audience.
The Making Of The Boy Band
When BigHit (now HYBE) formed BTS with members Jin, Suga, J-Hope, RM, Jimin, V, and Jungkook, things were rocky. Currently, BTS holds several records for selling stadiums worldwide, but the members of the group revealed during a guest appearance on the Korean reality series American Hustle Life, that they once had to give out flyers down Hollywood Boulevard in Los Angeles to lure onlookers to a free concert. During 2012–16, K-pop was a highly competitive market; groups kept debuting every month, and BTS getting launched by a small entertainment company came with mistreatment and prejudice. In the past, there have been numerous cases and announcements of BTS's performance being cut from different festival line-ups, replaced or cancelled at award shows, which offered a glimpse into the hierarchy culture in South Korea.
The group members hail from different financial backgrounds, but when they started living together, they knew they had to have each other's backs because all seven of them were cramped in a one-room dorm. Their old dorm has now been converted into a mini music cafe, allowing the Army to revisit the struggles and hardships faced by the group.
Beauty Of Their Lyricism
The music of BTS is rich with a variety of concepts, like renaissance imagery, classical allusions, and mythical meaning. For one to understand the power of the written lyrics, it may require taking a close look. For example, their song Spring Day holds a very emotional message for everyone. 'My heart is running on time, alone on the Snowpiercer. I want to go to the other side of the earth, holding your hand, and put an end to winter.'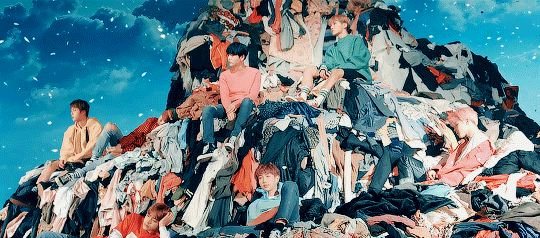 These lyrics commemorate the Sewol Ferry disaster, which took the lives of 304 high school kids. BTS sang a ballad of layered lyricism that uses spring as a symbol of hope, life, and better days. They also mention 'Snowpiercer' imagery—a fictional train that circles the globe in a post-apocalyptic earth trapped in an eternal winter. Even in the music video, one can find the members on a heap of clothes, which symbolises how the bodies were stacked on each other on the ferry. One of the Sewol Ferry victim's grieving father said, "Without anyone knowing, BTS quietly visited our kids through their song and video. They delivered their unforgotten hearts."
More Than Music
When I say they mean more than music, it's not limited to their dance moves or visually stunning videos. I want to shed light on what BTS has always stood for. As the members call their fans, "Army," which means, Adorable Representative MC for Youth," The core message of the band is to love yourself.  In 2018,  BTS partnered with Unicef to launch its Love Myself campaign, where leader RM shared, "Maybe I made a mistake yesterday, but yesterday's me is still me. I am who I am today, with all my faults. Tomorrow I might be a tiny bit wiser, and that's me, too. These faults and mistakes are who I am, making up the brightest stars in the constellation of my life. I have come to love myself for who I was, who I am, and who I hope to become".
The members have always been very vocal about their mental health struggles, they have always shown us that it's okay to be nonproductive some days and rest, to express ourselves, and love not only the successful or best version but all versions of ourselves.
Did You See Their Bags?
Their story of blood, sweat, and tears finally saw success in 2016 by becoming the first-ever musical act in history to top Billboard's Social 50 chart for several weeks in a row, dethroning Justin Bieber. From winning their first MTV 'The Show' award to becoming the most-awarded group in Billboard Music Award history to becoming the first K-pop boy band to play at the UN General Assembly, the group has accomplished a lot.
The group emerged as the K-pop industry's golden birds. BTS has also made history with the most #1 hits on the Billboard Hot 100 song chart this decade. And when J-Hope rapped Did you see my bag? Did you see my bag? My bag's filled with trophies. He wasn't lying, the group has been nominated for 485 awards, out of which they've won 319, making them one of the most awarded groups of all time. In 2021, the parent company HYBE (earlier known as BigHit) unveiled a music museum dedicated to fans and showcased an 8.5-metre trophy wall that displays all the trophies won by Hybe musicians, mostly by BTS.
BTS has also been instrumental in putting South Korea on the tourism map. The tourism industry has witness an upswing since their popularity, with fans making plans to visit the country. Sure, the allegiance might come with romanticised versions of the place, but it has certainly helped draw in more tourists.
This article is just a glimpse of the purple world. Currently, everyone is enjoying the members' solo era and is waiting for 2025, when the group will be back as OT7 and may restart their group activities.