While the holiday season is synonymous with happiness for many, it is quite the opposite for some. You might not be able to travel home for the holidays or you might be struggling financially. It can be challenging to observe others experiencing greater joy in their life when you're going through a difficult moment. Watching anime movies specially Studio Ghibli while lying under a warm blanket and eating my favorite noodles all by myself is simply therapeutic. Anime movies have mastered the art of doing daily tasks with the main character's energy being a supernatural element–imagine doing deliveries on a flying broom with a black cat like Kiki from Kiki's Delivery Service, or making hats like Sophie from Howl's Moving Castle.
Compared to American animation, which emphasises on mouth movement, Japanese anime is a far more complex rendition wherein the character arcs and attractive surroundings are given more weight. In the same vein, the charming and understated plots of the films on this list can cheer you up when you're feeling a little low, and they include breathtaking artwork made by professionals in the field like Makoto Shinkai and Hayao Miyazaki, which surely takes you on a magical journey.
There are innumerable anime masterpieces to explore, but if you're searching for something more light-hearted, here are five feel-good anime films to watch before the year ends.
1. Howl's Moving Castle
An adaptation of the children's book by Dianne Wynne Jones, Howl's Moving Castle is a fantastical story told by beloved animator Hayao Miyazaki. The charming animation combined with Joe Hisayashi's original score sets the tone for the film's fanciful nature, while the well-written characters will even have you feeling fond of the villain by the end of the movie. It follows Sophie, who gets a witch's curse that transforms her into an old woman, as she embarks on an adventure in an effort to break the spell while running into new characters and mystical creatures along the way. Sophie then gets whisked away by a dashing sorcerer named Howl, who hires her as a cleaner for his enchanted moving castle. The movie takes you on a magical journey of a lifetime with a tinge of love and bursting emotions.
Where to watch: Netflix
2. A Whisker Away
A Whisker Away is a lovely examination of what it might be like to swap daily anxieties for the carefree life of a pampered cat. It is heart-tugging, emotive, and meaningful. Miyo Sasaki, a middle school student, battles with an unfriendly stepmother and a school crush who doesn't reciprocate her emotions. One day, Miyo encounters a stranger who offers her a Noh mask in the form of a cat. When Miyo learns that the mask allows her to transform into a cat, she uses it to date the boy she likes while keeping him from finding out that his new feline friend is actually Miyo. This one's a light-hearted watch to remember your school days.
Where to watch: Netflix
3. Kiki's Delivery Service

A heart-warming, brilliantly drawn narrative of a young witch discovering her place in the world is how one would describe Kiki's Delivery Service. Although the anime emphasises the path to independence, it is not overly preachy. A coming-of-age story, the movie focuses on Kiki's gradual but consistent acceptance of herself, which leads to the growth of self-confidence and an unbreakable spirit to face adversities in daily life. Jiji and Kiki are witty and lighthearted, and they enjoy themselves. While Kiki's initial visit to Koriko leaves her feeling disheartened due to the challenging circumstances in an unfamiliar environment, she soon rediscovers her love for life. Kiki's transition from being a sheltered girl to independence and adulthood is a journey the viewers undertake along with the protagonist herself.
Where to watch: Netflix
4. Your Name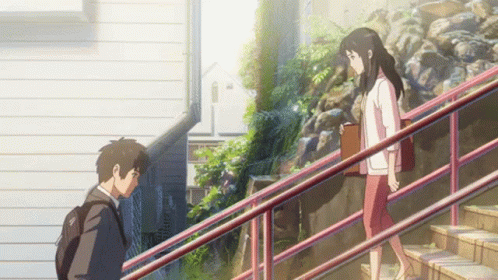 Makoto Shinkai's 2016 animated film Your Name is a ground-breaking work of art. One of the first anime movies to make a box-office impact in India. Taki and Mitsuha, the anime's two major characters, tell the plot. High school student Mitsuha Miyamizu is bored with her small town and dreams of leading a more exciting life in Tokyo. One day, she wakes up in a different body and discovers that she has suddenly turned into a boy. It turns out Taki Tachibana, the boy Mitsuha has been transformed into, has woken up in her body instead and in some way or another, the two make it their mission to try to locate one another. You'll rapidly develop a strong emotional bond with Taki and Mitsuha as they navigate the challenging realities of youth—more than just your average body-swap comedy.
Where to watch: Prime Video
5. My Neighbor Totoro
My Neighbor Totoro is one of the best Studio Ghibli movies in existence. Mei, her father, and the older sister Satsuki move to an older home in order to be nearer to the girl's mother, who has been undergoing treatment for a serious illness for a long period of time. Soon after settling in, they discover that a friendly, feline-like woodland spirit by the name of Totoro lives next door. In many of Miyazaki's movies, there is occasionally a sense of actual danger, which gives weight to the girls' lighter pranks. Their fantastical adventures are skilfully contrasted with a family's everyday struggles in a way that has made Miyazaki a household name.
Where to watch: Netflix
Once you've finished this watchlist, simple tasks like doing the dishes or waiting for your train on a subway platform will make you feel like the lead character in an anime film.
Also, read 9 Anime Looks That You'd Want To Bookmark RN!