Bookmark This: Everything You Need To Know About Styling Fanny Packs
...without looking like a clueless tourist
Having gained a bad rap over the years, fanny packs were a useful but long-forgotten street-style accessory, brought up only to make meme-worthy content, starting with this infamous meme of The Rock…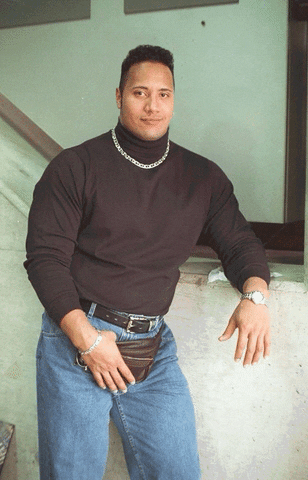 …into memes of clueless tourists.
But in the spirit of reviving things, since it's 2020 (the year where trends we once loved have made a solid comeback) the latest accessory we're hooked onto is fanny packs. From making appearances on the Instagrams of various celebrities to high-street fashion brands reviving the bag, the former athleisure staple has turned into a style statement. And hey, we're definitely on-board with it – it's easy to wear, pairs well with every outfit (yes, Indian-wear included) and keeps our hands free while storing our stuff, thus letting us focus on other, more important things. (Like, in case you were wondering, stuffing our faces with laddoos during festivals, or checking our DMs.)
Styling the trend isn't always easy though, but we've got you covered. Swipe through to learn how to style fanny packs like a celebrity (excluding The Rock, sorry):
Bhumi Pednekar's lewk is the perfect mixture of traditional with a little athleisure. Pair a printed, flared jumpsuit with a jewel encrusted fanny pack for your next festive ensemble, and pair it with high heels and oxidised silver jewellery to top off the look.
If Billie Eilish is sporting it, the look is street-style certified! Take notes from the queen of streetwear herself, and pair a pouch-style fanny pack with slouchy pants and an oversized baggy tee, and top the look with chain accessories. Brownie points if you nail the eye-roll.
Let Kriti Sanon's look be a lesson in how to use an accessory to level up your ensemble. Pair a co-ord set with a waist-belted, faux leather fanny pack and top the look with a contrasting necklace and black pumps for maximum effect.
Parineeti Chopra has the right idea when it comes to winter glam, right down to her choice of accessory. Pair an oversized sweater with a beanie to match (pompoms and all), and top the look with a quilted, over the shoulder fanny pack. Our say – ditch the leggings and the shoes for a pair of knee high suede boots to match.
Take notes as Rihanna shows you how to pair a fanny pack perfectly with your outfit. Pick a non-dominant shade from your outfit, try to match your bag to that colour, and remember, matching quilted slides are always a good (and über comfy) idea. Don't forget your sunnies!
Let Sonam Kapoor Ahuja show you how to style an over the shoulder fanny pack with an Indian outfit. While you don't necessarily have to make it blend in with your outfit, complementary prints go a long way. Oh, and you can store everything you need for a festive night out and stay hands free. PS: In case you did a double take because you couldn't find the fanny pack, you're not alone.
While tiny bags are making the rounds on social media, this one in particular caught our eye. It's tiny, it's cute, it doubles up as a belt and it (hopefully) stores your stuff. Pair the accessory with a loose fitted, striped white shirt-dress and you're all set for a winter brunch date. (On a more real note though, does anyone  know what fits in these bags?)
Which fanny pack style are you gonna be stealing?
Photographs: Instagram