Top 10 iconic moments from Keeping Up With the Kardashians we still can't get over
Looks like we'll have to be done Keeping Up now
Thirteen years after their show first aired, the royal family of reality television, the Kardashians, have finally decided to pull the plug on their show, Keeping Up with the Kardashians, with the last season airing early 2021. And it makes sense — Kim is busy with her kids and her clothing and beauty line (and maybe becoming the First Lady of the US?), Kourtney (who left the show earlier this year) is focusing on her lifestyle blog and hanging out with Scott's new girlfriends, Khloé is taking care of her daughter and her clothing line, and Kendall and Kylie are basically doing their own thing at this point. 
Having said that, it's safe to say that they have managed to do what very few could – they've caused a cultural reset. Sure, they're problematic sometimes (read: a LOT of the times), but their impact on reality television, on the perception of celebrity culture, and on the very essence of fame has been undeniable. And hey, we definitely aren't ready to let go of the absolutely absurd, hilariously real, and at times, even heartfelt TV show just yet. Scroll below to see the 10 most iconic moments from the show:
'Kim, would you stop taking pictures of yourself? Your sister's going to jail.'
Let's go a little easy on Kim — the LA golden-hour isn't famous for nothing. She takes taking the perfect, sun-kissed selfie a little too far though. I mean, Khloé did just go to jail.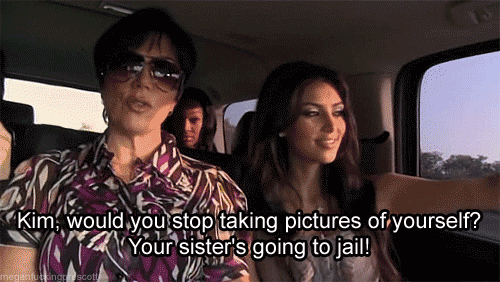 'Kim, there's people that are dying'
Okay, let's just say it like it is. Kourtney is the sassiest of the Kardashian Krew. Her responses (while Kim cries, obviously) could hold their own in a comedy roast, and her reaction to Kim losing her diamond earring in the ocean is priceless. Thanks for always giving us a reality check, Kourt.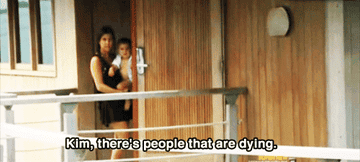 Kim hitting Khloe with her purse
'Don't be f*cking rude' is a phrase that will forever be ingrained in our head, with the visual of Kim aggressively hitting Khloe with her bag when she found out she and Kourtney were talking about her behind her back. You know, regular sister stuff.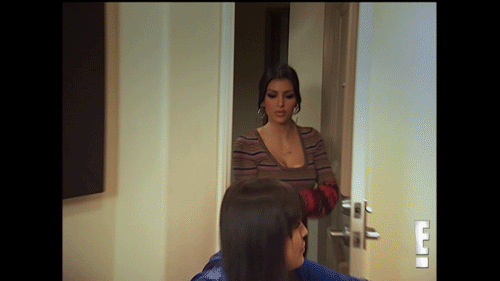 Kourtney waxing Khloe's vagina
Here's the situation — Khloe wanted a Brazilian wax. Kourtney took it upon herself to help her out and in a moment that made us all collectively wince with pain, Kourtney waxed Khloe's vagina live on television. But then again, that's what being a real ride or die is about.
That Kourtney and Kim fight
Kim and Kourtney have often come to (sometimes physical) blows, but over the past couple of years, they've gotten more… intense. When their conflicting schedules were coming in the way of the Kardashian Christmas card, Kim called out Kourtney and gave the internet its favourite fashion-reaction GIF: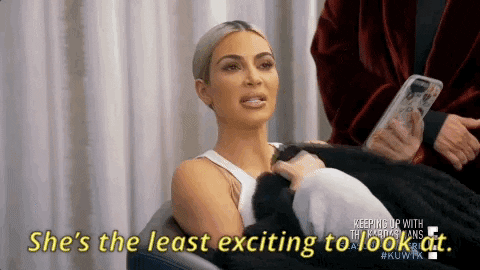 Kanye's proposal… and the wedding
Kanye West proved that he was the biggest romantic ever, by inviting all of Kim's closest friends and family to AT&T Park in San Francisco, where he popped the question as a surprise. And so what if Kimye's wedding was a little more secretive than we'd like it to be? They had a fairy-tale like wedding in Italy, and we're all collectively swooning.
The fight for the brown dress
In one of the few episodes where Kendall Jenner could take out time from her supermodel schedule and film (!!!) her and Kylie immediately got into a fight… about a brown dress Kylie didn't want Kendall borrowing. The rich and famous, folks — they're just like us.
'Is that a chicken?'
In a sequence that was equal parts adorable and equal parts hilarious, momager Kris Jenner got Kylie Jenner a pet piglet. (Which is so cute, BTW. We want one!) Kylie clearly didn't get the memo on what animal it was, and this vine-able moment was born: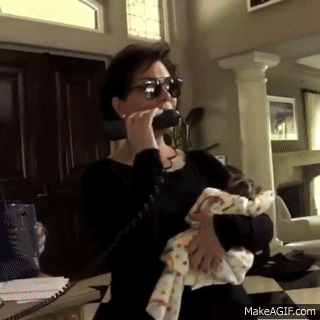 All the babies
With every new addition to the family, our hearts just melted a little as we watched members of the Kardashian clan grow up and have children of their own (insert the heart-eye emoji here.) Also JFYI – Kylie Jenner's pregnancy on the show may have been the best-kept secret of all time… How did she do it?!
All the spin-offs
You can't have an article about KUWTK without discussing the various spinoffs this show created, from Kourtney and Khloe Take Miami to The Life of Kylie, we've seen just about every single aspect of the Kardashians' lives. Our personal favourite moment? Blac Chyna's infamous meltdown in Rob and Chyna.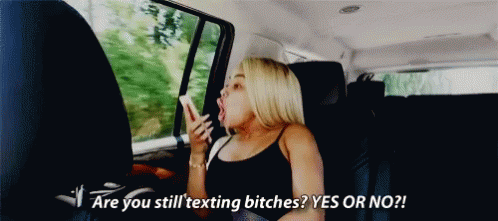 Which moment from Keeping Up with the Kardashians is your favourite?