Concert movies are having their big moment right now. Thanks to the mastermind of the music industry, Taylor Swift, who knows her value and impact on her fans. The Eras Tour movie is breaking multiple records at the box office. She is not only showcasing 17 years of her musical journey, but she is also making fans groove and shed tears on her tunes. Her fans, popularly called Swifties, are getting up from their seats, forming their Evermore circles, and dancing in the aisle, which the theatre owners have gotten used to now thanks to the success of past concert movies by BTS or Coldplay. Taylor Swift's The Eras Tour movie is transforming moviegoers into something more akin to stadium crowds.
As a Swiftie myself, it was a surreal experience to witness Taylor performing on the big screen. To be surrounded by fans who knew the lyrics of my favourite songs was an experience I am going to remember for a long time. I and everyone around me was dressed up in silly and fun costumes inspired by her songs or dressed like they were from a certain Taylor Swift's musical era.
View this post on Instagram
This wasn't my first concert movie exposure; back in 2018, I attended a BTS concert movie titled 'Burn the Stage: The Movie' where the armies (BTS fans) changed my whole perception about watching a recorded concert on the big screen. And it's only fair to give them credit for opening doors for more concert movies to take up space in Indian movie halls.
The Significance of Concert Movies
So why it is so important for fans to see these edited or recorded videos in theatres? India is often absent from the official tour set lists of artists, even if they are Asia-specific. Fans crave the feel of the concert's musical magic—to be surrounded by others who feel the same way about that artist. These movies take you into the artist's backstage life, sharing candid and intimate moments at the price of a regular movie. Fans witness the amount of hard work that goes into putting the show together for a night. Most of these concerts and movies are heavily dependent on audience engagement.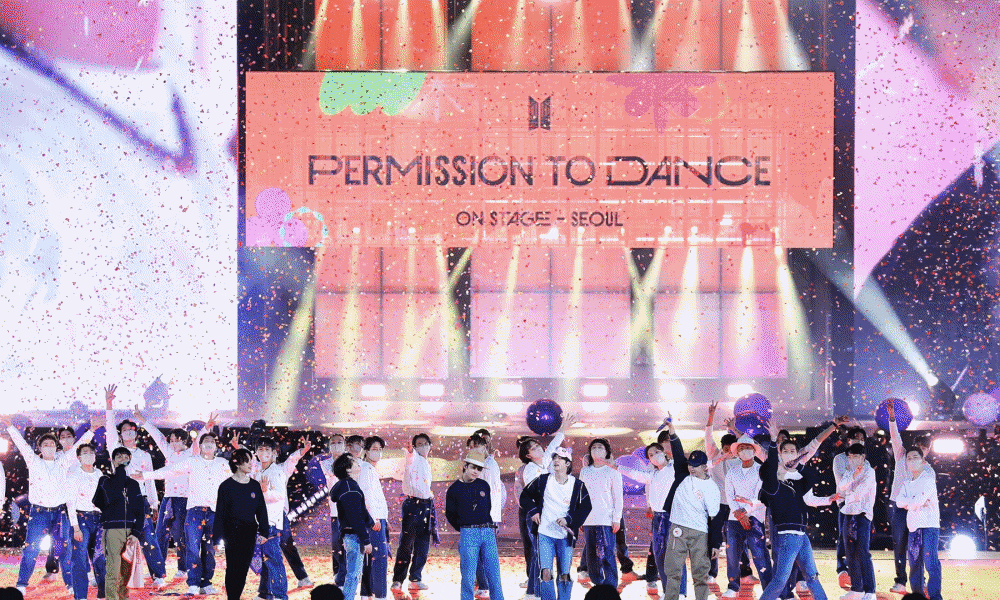 Through these concert movies, performers reach a worldwide audience and expand their performance beyond the physical confines of concert halls or stadiums. These movies also become a lasting record of an artist's live performances, allowing fans to relive those moments in the future anytime through streaming platforms like Netflix, Amazon, or Disney+ Hotstar.
Concert movies are more important to fans, especially those who aren't able to attend such concerts personally for many reasons; some of them live far away or don't have economic potential at the moment. Getting to witness such movies makes them feel included in their favourite musician's journey. So, if you are in a slump after attending The Era's Tour Movie, scroll down to stream some of the most popular concert movies online:
1. Reputation Stadium Tour
A comeback milestone: Catch Taylor Swift taking over the stage in Dallas for the Reputation Stadium Tour and celebrate a monumental night of music, memories, and visual magic.
Where to stream: Netflix
2. Homecoming: A Film By Beyoncé
Later this year, we might get to witness Queen B in all her glory in the Renaissance World Tour film. But for the time being, you can enjoy her iconic 2018 Coachella performance. This movie will take you behind the scenes of her majestic performance on stage.
Where to stream: Netflix
3. BTS: Permission to Dance on Stage – LA
There are multiple BTS concert movies to stream online, but this one will remain memorable for the army as the group made their stage comeback after the pandemic. This concert movie showcases the live performances of the BTS concerts held at the Los Angeles SoFi Stadium in late 2021. It focuses on performances of the Grammy-nominated music group's hit songs Dynamite, Butter, and Permission to Dance.
Where to stream: Disney+ Hotstar
4. Justin Bieber: Never Say Never
The concert movie gives an amazing glimpse into the life of Justin Bieber during his highly acclaimed 2010 Madison Square Garden performance. Many enjoyable events from the time leading up to his inaugural My World Tour may be found in the film. We get to see Justin Bieber at the start of his career, dazzling and captivating the audience with hits like Baby, Boyfriend, and more.
Where to stream: Apple Tv
5. J-hope IN THE BOX
An intimate doorway for 200 days in the daily life of the K-pop superstar. From his solo debut album Jack in the Box's production to the star-studded listening party, this movie follows him all the way to his debut on the headliner stage performance of Lollapalooza.
Where to stream: Disney+ Hotstar
6. One Direction: This Is Us
Go on a musical journey with the fan favourite boy band One Direction, where the members Harry Styles, Liam Payne, Niall Horan, Louis Tomlinson, and Zayn Mallik before he quit the group. The band's Take Me Home Tour is a nostalgic nod to those old 1D days.
Where to stream: Netflix
7. PSY Summer Swag 2022
Something to take you back to summers. The global pop icon needs no introduction. The Gangnam Style singer's Summer Swag concert movie will make your hall rooms turn into disco pubs.
Where to stream: Disney+ Hotstar
8. SUGA: Road to D-Day
Follows BTS star SUGA as he travels across the globe in search of musical inspiration for his next album, D-DAY, from Seoul to Tokyo, Las Vegas, and beyond. Get a surreal experience of his live performances in the comfort of your living rooms.
Sunidhi Chauhan Gets Candid About Her Enigmatic Stage Presence, Musical Journey, Dream Collaborations And More