Under my Umbrella, Disturbia, Please Don't Stop The Music and many more–these songs introduced me to pop singer Rihanna when I was in school. Let me just tell you that if today Rihanna invited me to stand under her umbrella and I can barely fit an eyelash under that umbrella, I would happily take her up on it. The songs are timeless and I can bob my head to these tracks till today. But today, there's so much more to the artist. The award-winning star with so many hit numbers has gone beyond music and become so much more. Yup, she manifested her way to success back in 2008 in one of her interviews. She was asked where she would see herself in 10 years and the celebrity said, "I want to have already started my family and have some businesses of my own. A fashion line, a makeup line, and I still want to be doing what I'm doing at a much bigger capacity."
Fast forward to 2022, Riri has got all of that and more. She has created a legacy for herself, from entering the fashion biz with multiple collaborations to becoming a beauty mogul with Fenty Beauty to being the richest female musician to now having the chance of having a family–she's pregnant and baby Riri is on the way. She's with rapper and boyfriend A$AP Rocky right now. Whether it's her uber-chic street style or iconic red carpet looks or her bad-ass interviews, Rihanna is killing it and an inspiration for us all! On her birthday today, we take a look at all the reasons Rihanna is the ultimate universal icon.
1. She Is The National Hero Of Barbados
Following Barbados exit from the British Monarchy last year, the Prime Minister Mia Mottley didn't have to look too far for its new National Hero. After being named the ambassador of Barbados in 2018, Mia Mottley declared Rihanna the National Hero in November 2021. The honour allows the singer to use the title "Right Honorable" in front of her name going forward–a well-deserved title for the Barbados native who does tons of philanthropy work, which includes the funding of educational programs in Barbados schools.
2. She Is Now A Part Of The Billionaire's Club
Forbes estimated the pop star and business mogul is worth $1.7 billion. And this hasn't happened only through her music. She has her cosmetics label to thank as an estimated $1.4 billion just comes from Fenty Beauty.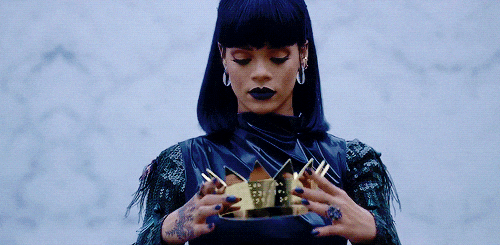 3. She Is One Of The First People To Have An Inclusive Beauty & Lingerie Brand
Rihanna is one of the first businesswomen to identify the need for inclusivity in skincare and makeup. Her whole idea of launching Fenty was to make women everywhere feel included. So she took the beauty world by storm in 2017 when her label launched with 40 shades of her Fenty Beauty Pro Filt'r Soft Matte Longwear Foundation. Some of the deepest shades even sold out first, proving a need in the market–thanks, Rihanna!
She also bridged the inclusivity and diversity gap in the lingerie space with her SAVAGE X FENTY line by including a line that can be worn by men and women and all body types. In fact, she doesn't only bring inclusivity in the products but also the campaigns for it through the choice of models. All skin types, body types, and genders are celebrated!
View this post on Instagram
4. Even Her Pregnancy Announcement Is Iconic
How can we forget how Riri surprised us with her pregnancy announcement? She completely caught us off-guard when all she did was unbutton her pink puffer jacket to reveal her belly, throwing all her fans (and us) into a frenzy!
5. Nobody Does Pregnancy Style Like Riri
We want what Rihanna's having. I mean, she looks stunning as a mamma-to-be and already has that wonderful pregnancy glow. No doubt her street style is unmissable but she has taken it a notch higher with her pregnancy looks 'cause they're noteworthy for sure! Scroll below for her sartorial elegance.
Photograph: Getty Images
Photograph: Instagram
Photograph: Instagram
6. To "Pretend" Is Her Secret To Being Confident & That's Our New Mantra
Rihanna puts the bad in badass during her interviews. Her secret to getting on with things when she's not feeling herself? "Pretend! I mean, it's either that or cry myself to sleep. Who wants to do that? You wake up with puffy eyes the next day, it's a waste of tears," she said one day. NGL, I've saved this on my notes–it's quite empowering to read.
7. The Queen Of Red Carpet Style
Rihanna makes a statement wherever she goes and red carpet events are no exception. But if we had to pick her most memorable and iconic ones, we'd definitely choose the 2015 MET Gala dress in which she donned an imperial yellow dress featuring a long train by Chinese designer Guo Pei as well as the Adam Selman gown embellished with more than 2,16,000 Swarovski crystals from the 2014 CFDA Fashion Awards (and of course, how can you forget the way she twerked in it? We loved it!)
Photograph: Getty Images
Photograph via Pinterest
8. She Has The Coolest Character In Ocean's 8
Sorry Sandra Bullock, but we really think Riri was super rad as Nine Ball in Ocean's 8. TBH, her role as a hacker is a significant one in the film 'cause that's the only way they could hack into the MET museum.
9. Forever Authentic To Her Roots
When Rihanna isn't making waves in the beauty and fashion world, she comes forward to support various social issues. She has never shied away from sharing her point of view and speaking for her own community as well as other communities–whether it is her raising her voice during the Black Lives Matter movement or talking about the Indian Farmer Protests.
If intentional MURDER is the fit consequence for "drugs" or "resisting arrest"….then what's the fit consequence for MURDER???! #GeorgeFloyd #AhmaudArbery #BreonnaTaylor pic.twitter.com/iK9SYkaAGb

— Rihanna (@rihanna) May 30, 2020
10. We'll Never Get Bored Of Her Music
The beginning of my story already has me naming some of my favourite Rihanna numbers, and I keep listening to them on loop till today. Having said that, my only complaint is that she isn't making more music. Here's hoping she drops a new album soon!