Dear brands, we need to chat. No really, like sit down and genuinely talk about what you are expecting me from fuller bust women like me?  Since we are never your target audience, should we just detach our breasts and fling them into the ocean? (A lot of us would take up this option if we could, believe you me).While you flounce around terms like 'Body positive,' 'Curve friendly,' 'plus size,' on your websites, the utter lack of understanding of what fuller bust women need is both apparent and appalling. And no, these terms are not interchangeable.
While the lingerie scene for women with fuller busts has witnessed a slight change- we do find bras in our size though we are required to sell a limb to be actually able to afford them – the swimwear and beachwear options for fuller bust women are woefully inadequate. And no, don't you throw a Parfait at me. Surely we need more than one brand that understands that bigger breasts need different kind of support and that a plunging neckline will probably result in us flashing the crowd, which would be quite the show but that's not the point.
Fuller Bust Frustrations
Band Aid And Functionality
For starters, most swimwear and beachwear brands need to understand that just because we have fuller busts, it doesn't necessarily mean that the rest of the body also fills the contours of the sizes they have. A fuller bust means bigger cup sizes, possibly a requirement of more coverage but it is nothing that can be easily compartmentalised in size 12 or 14 or worse, XL or XXL. Because while the breasts might be bigger, the band doesn't have to be.
Also, and please lean in closer because I need you to hear this, not everything that works for women with smaller breasts works for us. So yes, the underwires do need to be sturdier so that they don't end up being put in jail for stabbing us in the boob. Or that while they might be considered ugly, the straps need to literally shoulder the weight of our breasts and are not there just for the aesthetic value. Those skinny straps struggling to hold on to our shoulders only leave angry, red marks and help no one. Also, most strapless options are a no go because the tank or bandeau bikini top sliding down our torso has us on the edge all the time and then doing a struggle-kind of dance to wriggle them into place.
Of course, the swimwear and beachwear options for fuller bust women do need to do the basic job of offering support to our breasts and keeping them in as well, so that one rogue boob doesn't pop out while you are swimming or lounging about.
Granny Bikinis
A few brands do gingerly venture into the space of fuller bust swim or beachwear but even these tend to get them quite wrong. Somehow, the assumption is that bustier women want to disappear behind bolts of fabric or that we do not want any sort of cleavage to show. Now I don't know who made bikini brand makers the torchbearers of our modesty, but we need tankinis, monokinis, HECK, all kind of kinis so we actually have options on our summer holiday. Some of the stuff out there is so boring, even my granny would reject it for it being a snoozefest. At the risk of sounding repetitive, we do not need or want boring black swimsuits – give us florals and polka dots. Give us neons and stripes. Why must we walk around on a beach looking like we are at a funeral is beyond me. Perhaps we are mourning the loss of taste and design in swimwear for fuller bust women.
Oh and btw, if you recommend smushing our breasts together because we must fit into regular size, I hope you realise we get a uniboob from that and like we've stuffed a weirdly shaped pool noodle down our top. Not pretty.
The Size Prize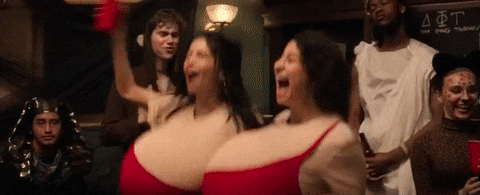 Here's what I also suggest- allow for mix and match. We women with fuller busts need this more than ever. While we might have boob spillage on the top from trying to fit into pre-determined sizes that nowhere offer the coverage we need, our bottom half might be bigger or smaller and the set is then rendered useless for us because, how? How do we explain to people that while I am a beautiful 36DD, my bottom bits might not fit into a size 16 bottom that's usually paired with the top of this size. For us fuller bust goddesses, it means forgoing an entire cute swimsuit because it doesn't add up or then spending a bomb on finding another bottom that works with my body shape and size. Oh while we are here, I would like to also discuss how swimsuits are ludicrously priced so that you could afford lunch for a month or a tankini for your beach vacay.
Rant over. But if you do want to read another piece I did about the hypersexualisation of big breasts, click here.