K-dramas love to romanticise everything including the rains. Where as in real life there's nothing really romantic about the wet roads, slippery stairs, and muddy streets. We all are well versed the term 'love is in the air' but during Mumbai rains, all we can smell is nauseating smell of the drains and alternatively, sweat (which is no respite). It's like a gloomy time of year, where the absence of sunlight makes us feel a bit low. But for an ardent K-drama binger, these things are actually different. There is nothing more comforting than watching your all-time comfort K-drama, curled up in a warm blanket with your hot and spicy ramen cup, in the rainy weather. Rain in a K-drama isn't just a scenario; it's almost as important as the lead characters, and sometimes, the catalyst.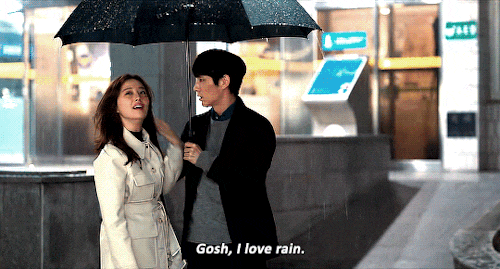 In Korean culture, rain symbolises good luck and new things happening in life. The weather shown in K-drama is a general depiction of the mood of the characters because, when you feel the character is having a mental breakdown, the clouds are going to weep with them. During these rainy scene, the colour of the umbrella also plays a major role in translating the narrative.
In Legend of the Blue Sea, Heo Joon-jae (Lee Min Ho) uses the blue umbrella to protect Shim Cheong from the rain instead of abandoning her, which is a metaphor for fate with a dash of optimism.
why would I lower my standards when shin hari is giving so much consideration, she managed to keep kang tae moo not to see the rain 😭#BusinessProposal #BusinessProposalEp10 pic.twitter.com/QzSNTGQu0l

— 마크 (@markyeuu) March 30, 2022
The most popular among fans is the yellow umbrella theory, which has a different connotation in the K-drama world. It truly takes the form of a legend, according to which anyone who finds themselves beneath a yellow umbrella will fall in love with their companion and form an unbreakable tie with them, as seen in Business Proposal. The rain also allows the author to show the audience how the main characters are and how far their relationship has come since they first met by simply adding a few drops of water and a small umbrella to a scene.
So, here we are listing down some of the most memorable K-drama rain sequences that you should re-watch this monsoon:
1. Crash Landing On You
An instant classic, Crash Landing On You, starring Hyun-Bin and Son Ye-Jin, confirms the hit show rain theory with a cute park date featuring the lead couple taking a stroll in the park together in the rain.
2. It's Okay To Be Not Okay
It's Okay To Be Not Okay marks some of the most iconic K-drama scenes. One of them is this rain sequence where Moon Gang Tae played byKim Soo Hyun, looks Go Moon Young played by Seo Yea Ji on the streets. When he noticed her soaked and aimlessly wandering down the street, he gave her his jacket and then offered to take her home on his motorbike. One for the romance books.
3. Business Proposal
In most of these rain scenes, we always see the male characters coming to their rescue. But in this entire part of the Business Proposal, Shin Ha-ri, played by Kim Sejeong, steps up the game for the ladies with a significant yellow umbrella for the ladies while protecting her man, who suffers from ombrophobia.
4. Scarlet Heart
The uncertainty of whether your heart will break or swoon in response to what was happening in this scene of Scarlet Heart is a horrible combination of emotions. Because of how heartbreaking this moment is in the K-drama, when IU's character is drenched in rain with bruises, Lee Joon Gi comes to the rescue.
5. Something In Rain
Starring Son Ye-jin and Jung Hae-in, Something In Rain's name itself showcases the essence of rain in life and love. Ending with a confession and kiss, this rain sequence is definitely one of the cutest ones.
6. The Legend of the Blue Sea
One of the most iconic K-dramas on the list, The Legend of the Blue Sea, stars Un Ji-hyun and Lee Min-ho as Shim Cheong and Heo Joon Jae, respectively. The rain sequence starts when a severe rainfall leaves Shim Cheong alone, waiting patiently for Heo Joon Jae. Just when we thought Joon Jae was about to leave her, he saw her in her miserable condition, covered her with his umbrella to protect her from the rain, and offered to help her get up.
Also, read 6 Charming Workplace Romance K-Dramas For The Hopeless Romantic In You