Media is no longer limited to only being a source of entertainment; it's like a medium that represents, acknowledges, and gives validation. For young queer people in particular, representation can have a significant impact on how they perceive themselves. They may feel more accepted in society if their personalities and relationships are depicted positively, with less judgement. It can normalise many identities and educate audiences that the world is not as binary as it is frequently portrayed to be. In recent years, queer representation has come a long way.
Not Funny Anymore
As kids, we all might have found the scene with Kanta Bai's reaction to discovering SRK and Saif in a compromising position funny in Kal Ho Na Ho. I mean, it was played for laughs. But it's likely that this humour furthered the notions held by a queer child. Humour based on real-life experiences can often be cruel and when done badly, can end up severely damaging the very people it chooses to make fun of.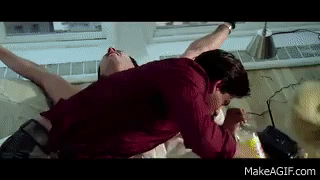 Queer people, for the longest time, have been reduced to a trope for slapstick punchlines. From the stereotypical nasal-voiced, scarf-clad caricature to villainized trans characters, queer representation on screen, especially in Indian movies was a disservice to the community.  My earliest and perhaps most scarring memory is of Ashutosh Rana's character in Sangharsh where he plays a trans-woman who worshipped Kali and abducted kids to sacrifice them at a goddess' altar. As I grew older and watched more Bollywood, I came to see that this was a small aspect of a much larger problem. This trope was also continued in movies like Sadak, Murder 2, and more. If not considered evil, queer characters were often used for comic relief, their gender and body language was the butt of all jokes.
Dawn Of The Rainbow
It's 2023, and everyone is trying to unlearn their thoughts and expand their societal lens. The attitude of "for its time" cannot be maintained. In recent years, gay kids have been more accurately and authentically portrayed in worldwide TV series and films. The central theme of Netflix's Heartstopper is the normalisation of different identities – the motley group of high school students includes a homosexual and lesbian couple, a transgender lady of colour, and other characters. It addresses homophobia and bullying, but the series also brings the conversation to this group of kids who are coming to terms with their identities. The entertainment industry in Thailand has contributed tremendously to normalization of queer identities in the form of BL dramas. What these BLs give to gay men is the escape from reality – a privilege given by western or Indian romcoms to the heterosexual public – without capitalising on queer misery for brownie points.
Closer home, filmmakers are trying to get rid of these problematic tropes and share queer stories in a fresh and positive light. This year we witnessed Dhruv and Faruq's story in Ashim Ahluwalia's Class which caught everyone's attention because of its portrayal of a young gay couple trying to find a space for themselves. Back in April, when I got a chance to interview them, Chayan Chopra, who played Dhruv, said, "I knew as a cis-het man I wouldn't ever be able to understand the struggle queer people go through, but I feel comforted knowing that people can see themselves in Dhruv. Farooq and Dhruv are just two regular dudes in love, which has nothing to do with their gender, and receiving all the love is truly amazing. I wish people saw these queer kids in the same light they see others, because reducing someone based on their sexuality is very inhuman".
So, this month, let's look back on  progress from the past to the present. Of course, not every contemporary series with good LGBTQ+ representation is recognised on this list, which simply goes to show how far we've come.
1. Class
One of the most heartwarming plotlines from the show revolves around the love story of Dhruv and Faruq, two individuals who defy societal expectations and embark on a journey of forbidden love. At first glance, their love story may seem like a familiar trope, with two individuals from different backgrounds coming together amidst a backdrop of drugs and familial disapproval. However, Class takes their relationship to a deeper level, showcasing the complexities and nuances of their connection. Faruq's self-awareness and willingness to protect Dhruv, even if it means leaving him, highlight the depth of their love. Their fearlessness in the face of potential heartbreak and their vulnerability draw viewers back into the show, keeping them emotionally invested in their journey. The series pushes the boundaries of storytelling, presenting a narrative that is raw, and honest.
Where to watch: Netflix
2. Pose
This series spotlights the legends, icons and ferocious house mothers of New York's underground ball culture, a movement that rose to prominence in the 1980s. After receiving life-altering news and losing her first real home, Blanca starts her own house- a self-selected family that provides support to LGBTQ youth rejected by their birth families. Making television history, Pose features the largest cast of transgender actors in series regular roles, as well as the largest recurring cast of LGBTQ actors ever for a scripted series.
Where to watch: Hulu
3. Margarita With A Straw
This award-winning movie's plot revolves around a girl named Laila, who lives with her mother Shubhangi, dad Baljeet, and brother Monu in Delhi, where she attends college at DU. Laila has cerebral palsy, which impairs her motor functions but not her intelligence. She composes music, plays chess, and excels at creative writing. After getting a scholarship to study in New York, her life takes a new journey, a ride filled with love, lost and self discovery. Lead actress Kalki Koechlin delivers a power-packed performance.
Where to watch: Netflix
4. Ek Ladki Ko Dekha
This was one of the first time Bollywood portrayed a queer love story in a positive light on mainstream. The makers really tried to combat ugly stereotypes and entrenched beliefs with this one. The story is based in a small town of Punjab where Sonam Kapoor's character Sweety is living with her family and like any other brown family, they are very persistent about getting her married. But getting married to a guy is not something Sweety has dreamed about, she's had to hide her sexual identity from her family and society since childhood. This movie is not truly a romantic comedy in the traditional Bollywood sense of courting, romance and marriage. Like Sahil's (played by Raj Kumar Rao) musical, "Ek Ladki" this movie addresses the issues like shame, social acceptance, and the social stigma that regards homosexuality as a disease.
Where to watch: Netflix
5. Dickinson
One of Apple TV+'s first original programmes, Dickinson manages to turn chapters from the life of Emily Dickinson that historians didn't want to bring out. Historians have firmly held on the the story that  Emily and Sue were just friends but the admirers of Dickinson's poems know the lesbian undertone of her poems. Directed by Alena Smith and starring Hailee Steinfeld as the poet's young self, it paints a chic, amusing, and modern depiction of her life in Amherst, Massachusetts, in the middle of the 19th century. With a plethora of musical selections and Emily's passionate lesbian encounters, this series cleverly presents Emily Dickinson as cool for the new generation of poetry enthusiasts.
Where to watch: Apple TV+
6. Ajeeb Daastaans (Geeli Pucchi)
Shedding light on caste, sexuality, and gender intersection, this is a compelling anthology that delves into the complexities of relationships and the harsh realities of Indian society. Geeli Pucchi- a narrative on social class, caste and sexuality collide where an unfeminine, hardworking, single woman loses a promotion in favour of a pretty, young, married (socially acceptable) woman who's recently joined the workplace. She befriends the new arrival but under a calculated false pretext. For those seeking cinematic experiences that transcend mere entertainment, "Ajeeb Daastaans- Geeli Pucchi" is an absolute must-watch. It's emotionally charged narratives, brought to life by a talented ensemble cast, serve as a mirror reflecting the multifaceted nature of human existence.
Where to watch: Netflix
7. 2gether: The Series
This BL's plot has the fan favourite fake dating trope featuring Tine who is an extremely good-looking college student and cheerleader, while Sarawat is one of the most popular males at school and a leader in the soccer and music team. When Tine is pursued by Green, whose feelings he does not reciprocate, he begs Sarawat to appear to be dating him so that Green will leave him alone. In an age-old story, deception gradually gives way to reality. However, before a "happily ever after," there must be the process of falling in love and the growing knowledge that they are no longer pretending.
Where to watch: Netflix
This list is just a small glimpse of the rainbow magic there are numerous shows and movies who have contributed towards a healthy representation of queer community. Happy Pride 🌈
Also, read Thai BL Dramas Worth Watching For The Unique Portrayal Of Love And Romance